Baranof Blog & Fishing News

Update: King salmon sport fishing in Ketchikan opens a month early

The Alaska Department of Fish and Game just released changes to their 2018 terminal harvest area, and the relax in regulations is giving local sport fishermen a welcome sigh of relief. In 2018 the terminal harvest area has been established from Mountain Point to Carrol point where the limit will be one king salmon starting May 15th. This allows us to target and retain kings a month earlier than originally planned.

Mountain Point is roughly four miles from our dock, and while I'm sure there'll be a whole lot of boats fishing in this area, it will be legal to keep kings 28" and over. Mountain Point has historically been a place to hold fish as they move through; given its location, it is very unlikely that Unik River kings come through the area.
The Alaska Department of Fish and Game recently released salmon regulations concerning the area around Ketchikan in which we fish. The changes are indeed historic, as these are the strictest king salmon regulations ever seen in the area. For the first time since king salmon has been protected by the state, they have closed the retention of king salmon from April 1st to June 15th. Until June 15th, king salmon will be strictly catch and release, regardless of size.
According to the ADF&G, these regulations are necessary because several runs of wild king salmon throughout Southeast Alaska are at an all-time historic low. The Unik river, in particular, is the main concern of biologists in the Ketchikan area. This river has traditionally seen the largest king salmon runs in Southern Southeast Alaska, with some runs exceeding 10,000 fish. This year biologists are expecting Unik River King salmon to number in the hundreds. These regulations are partly because the ADF&G is legally required to regulate this fishery because of a treaty with Canada.
While the news from the Unik is disappointing, hatchery fish, on the other hand, are not fairing quite so badly in our area. Southern Southeast Regional Aquaculture Association (S.S.R.A.A.) was formed and funded by commercial fishermen, and it currently operates eight hatcheries that release millions of salmon in the Southeast Alaska area every year. While several species are released, they are expecting a king salmon return which is much more optimistic than the doom and gloom of the Unik River. The travesty of the situation is that while the ADF&G is required to protect the Unik river salmon, it's impossible to tell the difference between these wild fish and SSRAA's hatchery fish. This creates a situation where commercial fishermen, who have invested time and money in producing these hatchery runs, are tied up at the dock because of our regulations. In 2017 king salmon news was consistently bad, with many calling it the worst year ever recorded. It was surprising that our company seemed to have its best year ever. All we can attribute it to is the lack of commercial pressure.
While it's technically not illegal to fish for king salmon before June 15th, the fish must be released into the water; Alaska laws consider a fish brought into the boat as "retained." This is viewed by some as ethically questionable due to the unquestionable mortality rate when playing kings close enough to pull the hooks. Needless to say, there will be no pictures of clients holding king salmon during the protection period for ethical and legal reasons. My position is, that while I would be willing to enthusiastically pursue kings before June 15th if a client had a dream of fighting a king, I'll be recommending spending the day fishing for halibut.
There's no way to spin this as good news for folks planning a king fishing trip in the Ketchikan area, but it's not as bad as it may seem. While fishermen arriving within the regulated period will need to adapt their expectations, they won't be doing it alone; please call us or email me directly if you'd like to toss around some ideas on planning your fishing charter. For those outside the restricted period, don't be surprised if you have greater success than your friend did last year.
https://www.adfg.alaska.gov/sf/EONR/index.cfm?ADFG=region.NR&Year=2018&NRID=2534
https://ssraa.org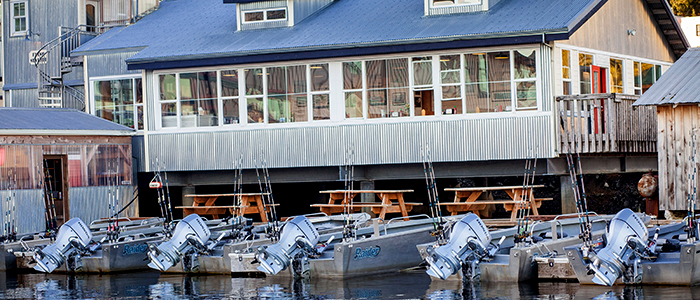 Service - We're in the business of exceeding expectations, and that starts with the first phone call. When you ring our number, you'll be talking to a human. When our guests have a question, you'll be talking to an expert (or Greg); we endeavor to put you in contact with the authority on whichever topic you need more information on - be it fishing, cooking, or just Alaska travel in general. Anything less than a 5-star experience is a cause of concern for us, and we encourage our guests to make their needs known. As we identify areas for improvement, especially in the case of skewed expectations, we strive to address those issues via our website.
Baranof Fishing Excursions and the Alaska Fish House are driven to provide the most authentic Alaskan experience possible to our guests and visitors. With our commitment to continuous improvement, we're constantly seeking ways to enhance that experience whenever possible, which is the motivating force behind our web design efforts. As we continue to expand on our site, we look forward to offering current, exciting content to visitors and locals alike, prepare future explorers for their journey to Alaska, and provide a medium to share that experience with their friends and family.
Tags: No tags found Posted in Alaska Fishing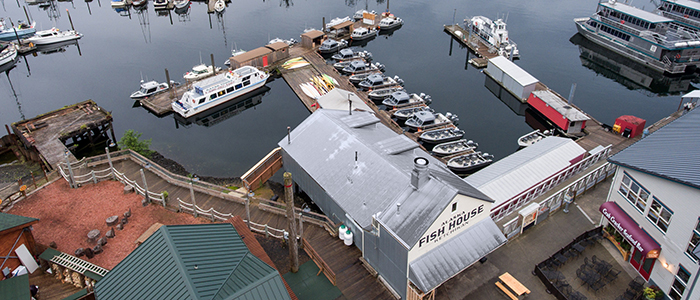 Graphics - Throughout the site, you'll see all manner of graphic content. Whether using photos sent in by a satisfied client has taken on their phone, historical photos supplied by Ketchikan Museums, or drone shots by Charley Starr, our Director of Digital Marketing, Jeimi Woffinden (who wished to remain nameless) has done an absolutely outstanding job of pairing content with pictorial representation. Our guides are provided with company cameras and are expected to snapshots throughout each one of their charters and excursions, leaving the guests to focus on their Ketchikan salmon or halibut fishing experience, which are then uploaded to our site for clients to download or link to their friends.
Analytics - Anything measured tends to improve. Towards that end, we use a number of different programs to track the customer experience on our site. By keeping a sharp eye on Alexa and Google rankings, bounce rate, and where visitors spend their time, we are able to identify areas that need to be improved or expanded upon. While that may seem Big Brother-ish, it's all for a good cause; knowing, for instance, that folks are spending time reading our blog, checking out our recipes, or amusing themselves by perusing our Alaskan Anecdotes stories enables us to focus on what our visitors value most.
Tags: No tags found Posted in Alaska Fishing

Baranof's website has undergone some dramatic changes over the last year or so. Our owner, Chuck Slagle, no longer believes computers, or even the internet, are just fads. He decided to invest a wealth of time and funding towards retooling the company web page by hiring and contracting proven and talented individuals to provide excellent graphics, content, and analytic overview. Our mission is to provide an informative, interactive experience for prospective clients, tell stories that our guests can live, and offer insightful recommendations on how to best enjoy Ketchikan. Here's how we do it...
Connections - Most of the people you meet in Ketchikan, and the rest of Alaska, are here because they can't imagine living anywhere else. Baranof, as well as most every other excursion company you'll come across here, is made up of these individuals. We are constantly seeking connections through our site with the companies we feel exemplify Baranof's passion for providing authentic Alaskan experiences. Our Explore Ketchikan section provides ideas for recommended activities, restaurants, excursions, and anything else we believe to be integral to what makes Ketchikan a wonderful place to live.
Storytelling - Baranof is about providing experiences, which manifest later as stories told by our guests to their family and friends. That being the case, a question we constantly ask ourselves when diving into a new project or looking to connect with another Ketchikan business is "What's the story here?" The focus of the web team is to tell good stories. Oftentimes, folks hop on a cruise ship or plane and travel to Alaska with expectations lower than they should be. Spinning a good yarn excites the imagination and educates our guests on what they can, and should, expect from their vacation in Alaska. For example, Ketchikan is known for salmon fishing, which is an excursion Baranof is proud to provide, but some folks get up here without realizing our main attraction is the amazing scenery found all around, especially in the Misty Fjords. We want our visitors to dream big, aim high, and leave Alaska having checked boxes off their list that they didn't even know existed. We encourage our clients to tell us what their story of Alaska sounds like before they come up and let us figure out how to make that story come true.
Tags: No tags found Posted in Alaska Fishing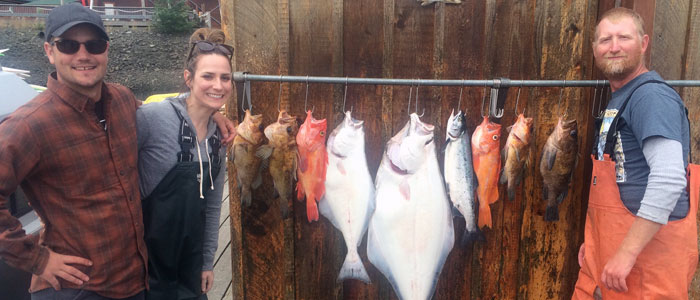 By Greg Slagle
One day, my father Chuck Slagle looked at what his brother was doing for fun and said to himself, "I bet people would pay to do that…". Over 15 years later, the concept holds true; fresh fish on a Southeast Alaska beach is a wonderful family experience. Dedicated to providing authentic Alaskan adventures, Baranof is a family company in many ways; our employees regularly borrow a boat for salmon and halibut fishing in Ketchikan with visiting relatives, we've designed all our excursions to be enjoyed by anyone from 5 to 85 years old, and we're a family company in the sense that we were founded by two brothers – AJ and Chuck Slagle. With a young son of his own, and his brother's grandkids making regular calls, AJ is constantly surrounded by his family. Always happy to take the time to teach us knots, how to fillet a fish, and the proper method of reciting a Robert Service poem, uncle AJ continues to show the younger generations of Slagles how to enjoy Alaska to the fullest. Alaska is about experiences; who better for our children to learn from than the man that has done it all?
For more stories about AJ and the Alaskan experience, visit his Facebook page at https://www.facebook.com/search/top/?q=alfred%20slagle%20jr. and our Alaskan Anecdotes page at https://exclusivealaska.com/alaskan-anecdotes.