Baranof Blog & Fishing News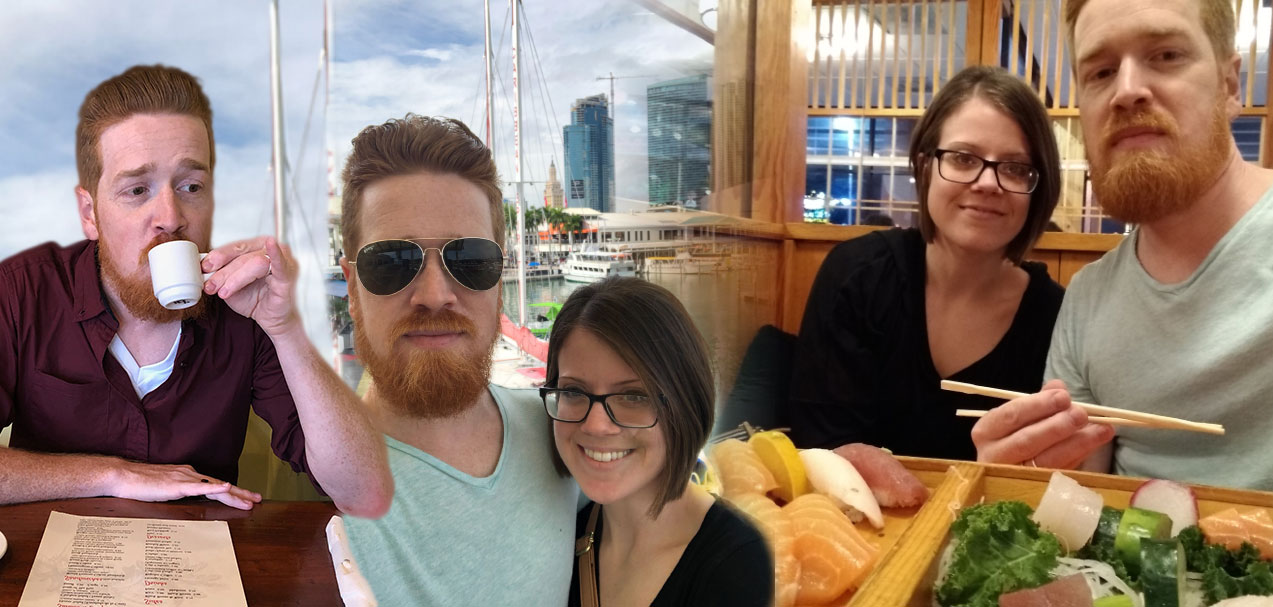 For the last 30+ years, my father's companies have been involved in the cruise ship tourism industry. During that time, he's gained a fair amount of insight into what makes them tick. He's developed and maintained professional relationships and personal friendships with many cruise line employees, and he's seen assistant shore excursion managers work their way up the ladder to senior management. He's maintained these relationships and addressed his business concerns through one-on-one interaction by traveling during the offseason to get in front of the cruise line decision makers. Only so much can be done over the phone or via email, neither of which plays to his strengths of identifying an opportunity and addressing it swiftly. I've had the pleasure of sitting in on many of my father's meetings, dinners and dockside interactions ever since I was a child in St. Thomas, U.S.V.I., and this year the training wheels came off as he sent a team, rather than himself, to meet with some of the cruise lines based in Miami.
My wife and I, along with Bonnie Steinberg (you can get to know her here) and her husband arrived at Miami International the weekend prior to our Monday and Tuesday meetings to get over the jet lag of traveling from Alaska and Missouri, pad around Bayside Market for a day, and meet with each other to go over our information and game plan. We knew what we wanted to present to each cruise line, but even though I'd come up with an agenda and set of goals to accomplish with each group, the entire point of the trip seemed very nebulous to me.
"What are we trying to do down there?", I asked my dad.
"I don't know – whatever. We're not really offering anything new, but every time I've made a trip to sit down with these folks, something has happened that made me glad I did. Get to know them, let them get to know you, and good things will happen.", was his response.
I'm glad I made the trip. While I've been excited to work for my father and be a part of the team that he's created, getting in front of our business partners has changed things for me indefinitely. I thought I had a clear idea, but never understood the passion that the people that are successful in this industry have for providing memorable experiences to their guests. I'm not talking just about Baranof; this website is replete with me expounding on the authentic, family, exclusive, etc. experiences we provide. I'm talking about the cruise lines. It blew my mind that out of the hundreds, if not thousands, of excursions that each one of these lines offer, the managers we met with knew in intimate detail every aspect of our little operation in Ketchikan, Alaska. I can't overstate their commitment. Bonnie and I, along with our spouses and a cameo by guide Jeff Kraynik, spent an hour or more with each cruise line over the two days we were down there identifying what we do well and areas for improvement. These are busy people, and I was prepared to be ushered out after a courtesy meet and greet, but to a business, they were bringing in customer service specialists, shore excursion managers, inventory control directors – you name it. My point is this; while any business will tell you they work hard to provide a great customer experience, I can promise that every cruise line I've met with to date will offer only a great customer experience. They are large companies, which in my small-town mind would intuitively preclude them from offering the attention to detail that a mom-and-pop operation can. The converse is true here – with the backing only a multi-national business can provide, these groups have provided the resources and qualified personnel to ensure that each one of their thousands of guests is treated personably, respectfully, and as a valued customer.
I've been proud to find work at my father's company and be a part of what he's built. Since our trip to Miami, that pride now extends to this entire industry. While the goal of any company is to make money, I know that we're blessed to be working with companies and individuals that enjoy their work for the service they provide. The successful people in this marketplace, as with any, are those passionate about what they do. In this industry, that translates to directors and managers as concerned about you checking bucket-list items off as you are, with a commitment you can't demand with salary alone.
Now, if they could turn their attention to detail to the traffic situation in Miami, the world would be a truly remarkable place
Tags: No tags found Posted in stories
The next morning we awoke to some fairly decent weather by Southeast Alaska standards; high cloud layer around 2,000', 5-10 knots of wind, a drizzling rain, and visibility of about 10 miles. Dad decided it was worth a look, so we packed up, bid our farewells, and taxied out to continue our journey.
With nothing to do as dad got us airborne and out over the waters surrounding Cordova, I remember marveling at how big Alaska really is. I'd grown up "in" Alaska, but had never spent an appreciable amount of time outside of Southeast. The night before we'd borrowed a truck from the local air-taxi operator (might seem weird loaning a car to a complete stranger, but he had our airplane… Again, welcome to Alaska!) and drove out to the Copper river for some sightseeing. On the road we were stopped by some oncoming traffic as a moose, towering over the cab of our Chevy Silverado, decided he had the right of way as he ambled past us without so much as a "thank-you" bob of his head. After this short delay we made our way to the river, completed our sightseeing trip, then headed back to town without further deer-delay to bed down for the evening.
My reminiscing was interrupted by a few curt words from my father. "Get the chart", he said. (This was alarming to me in a way as, even though I was too old and experienced to admit it out loud, I was still young enough to be surprised that my father needed assistance from something so rudimentary as a map. (Next, he'd be consulting instructions to put together a Lego castle…). Peering about as I pulled out our sectional chart, I began to understand the situation. Like the children in Chitty-Chitty Bang-Bang realizing the tide had come in around their magical car as they were lost in their father's story, the weather had deteriorated at an alarming rate around the plane I was riding in while I was lost in thought. There had been a storm in the area the last few days, and the stubborn thing was still there – visibility was down to a couple miles, the rain was driving in winds of at least 30 knots, and the seas below us were 40' swells. Save for the swells, the conditions would not have been out of the ordinary in Ketchikan; I believe the old timers would have termed these conditions "pretty crumby", compared to the "pretty good" conditions we'd departed in (during my day-dreaming session we'd blown right through "kinda scuzzy" and "a bit bumpy"). However, over the open ocean, with no other point of reference now that our visibility was gone and we'd since left Henderson Island behind us, my dad wanted me to find a heading from Seal Rocks to Montague island. We estimated the strength and direction of the wind by looking at the seas below us, came up with a crab angle, and continued on to Montague. Once we got there, with the conditions getting worse, dad told me to find a place to land. On our map was a small lake situated just inland from the south shore of the island. We buzzed around over the lake for a minute as dad contacted an airliner overhead on the emergency channel of 121.5. He asked them to call his wife and let her know we were going to camp for a night or two and we'd call when we got to Seward. I don't remember the name of this lake, but I do remember, much to my indoorsman delight, that it had a Forest Service cabin. We touched down, taxied to shore, tied off the plane with every rope we had, and schlepped our gear through the trail to the cabin.
This Forest Service cabin was the same design as I was used to seeing in Southeast at places like Ella lake and Manzanita, but it was fortified like Bert from Tremors had prepped it for the apocalypse. My ignorance of moose driving habits serves as a good example as to why I hadn't even considered the idea that the area would have brown bear wandering around… One bear in particular seemed to have the cabin lands designated as his territory; Hercules was his name, and the cabin logbook was full of accounts of him hurrying to the sound of gunshots to feed on what deer remains hunters had left behind after making their kill. We never met or saw any sign of Hercules, but my father did scare the life out of me during our second night at the cabin when he woke up and knocked over some gear on his way to the door while I was still sleeping. Bears aside, this cabin was a God-send. Some canned goods had been left behind by previous occupants. Though someone had erroneously believed mayonnaise had any kind of shelf life, the rest of the food, along with the tuna packets we had with us on the plane, served to provide us with some delicious fare. Our 3-day, 2-night, all-inclusive resort stay at the Chalet de Montague resort was an incredible bargain at $0.00 U.S. We were responsible for our own 2:00 a.m. tree-clearing, as the lake level rising a couple feet during the storm necessitated chopping down a parking space to keep our airplane from bobbing its way to a new location, but this was a minor inconvenience compared to any and all accommodation alternatives.
Once the storm passed, we loaded our gear on the plane, filled out the logbook at the cabin with tales of our travails, and took off from the by-now much larger lake. We headed to Seward, but it was socked in, so we landed in Homer. From Homer we made our way to Anchorage after fueling up, gave the plane back to the owner, and hopped on an Alaska Airlines jet back to Ketchikan – all according to plan. Compared to the rafting adventure he'd taken my brother and I on from Upper Mirror to Lower Mirror lake, things had gone surprisingly incident free by my father's standards on this trip. But that's a story for another time.
Tags: No tags found Posted in stories

600-odd miles northwest of Ketchikan, Montague island rests at the northern reaches of the Gulf of Alaska. The island is a long and comparatively thin stretch of land with low hills, several lakes, and the rocky shores and forests common in coastal Alaska. At the end of the summer in 2002, my father and I found ourselves unplanned beneficiaries of the Forest Service as we made one of their cabins our home for three stormy days and nights. Here's the story, as best as I can remember it, with only as much exaggeration as I think I can get away with (you are reading this on a sportfishing-centric website…).
In 2001 I graduated high school, and after a summer of working for my father as he and his brother launched Baranof Fishing Excursions, I headed off to flight school. I spent six months down in California over the next year with the family of my parents' college friends (hands down the most wonderful group of people I know), after which I returned home. With only about 250 flight hours in my logbook, and needing a minimum of 500 to be anything close to marketable to even the smallest of airlines, I took a job as a floor-sweeper, coffee maker and general nuisance at Promech's maintenance facility. Promech was, at the time, the largest air taxi in Ketchikan, owned by a man my father had been associates with since he was my age (17 – young, not the 35 graying years I have on me now…). The idea was I would hop on any flight I could and build time during empty legs of the company's commuter flights, then work my way into the right-seat (co-pilot) of one of Promech's DeHavilland Twin-Otters. The Twin-Otters were sold due to regulations that made their operation impractical following 9/11, restrictions since lifted, but the plan ultimately worked out as I was able to use the time I built and get a position in the Caribbean flying Twin-Otters on floats for Seaborne Airline. (I'm getting to the point, I promise.). During the tourist season, Promech would lease extra aircraft for Misty Fjords flightseeing tours. At the end of the season, the planes were either stored for the winter at the maintenance facility or returned to the owners. One such aircraft, an iconic DeHavilland Beaver, was leased from Ketchum Air out of Anchorage, Alaska. At the end of the season, my father offered to fly the aircraft back to Anchorage for free, as long as I was allowed to accompany him. Being an accomplished pilot and friends with the owner, Promech agreed readily. In late September, our journey began.
If you ask my father why he's been successful, one humble brag he'll allow is that he's always tried to identify what might go wrong and be prepared for it. That sounds simple enough - many of us believe we have a back-up plan and don't leave a lot to chance - but the quickest and easiest evidence I can provide of this is that he plans on two tires going flat at once during a road trip, not one. So when I say that we loaded the plane with everything we'd need for the trip, I mean we loaded the plane with everything we needed for the trip in about 5 minutes – then we spent the next 25 minutes loading it with everything we might need, things it was unlikely we'd need and items and gear we'd only need if everything went to hell. We used it all.
The plan was simple. We'd leave Ketchikan, overnight in Juneau, swing by Cordova for fuel, then shoot across the northern tip of the Gulf of Alaska (just off the coast, we weren't planning on being out of sight of land) on our way to Lake Hood in Anchorage. From there we'd hop on an Alaska Airlines jet and be home the day after we left. The flight to Juneau was unremarkable by Southeast standards, but the next day as we headed farther north I was treated to scenery and wildlife viewing opportunities I'd never experienced before. Southeast isn't known for sandy beaches, but for a seemingly endless stretch we were over boulder-free coastline as far as the eye could see. The weather was incredible up to this point of our adventure, which allowed us to get low over the beach for some up-close encounters with brown bear, a group of about 8 million seals that all flopped off into the water when we surprised them, and not a single human for hundreds of miles. We passed by Lituya Bay, famous for an enormous wave generated when half a mountain slide into the water and took several commercial fishing boats for a ride. As we neared Cordova, however, the weather began to deteriorate.
There is a lake near/in Cordova, the name I don't recall, that has a seaplane dock on the western edge. My father and I landed there to stretch our legs and take a close look at the weather. The forecast was calling for a storm that was already underway in the Gulf to make its way a bit north, so we (my father really, he's forgotten more about Alaskan bush flying than I'll ever learn) decided to stay the night and take a look at things the next day. While dad was doing his thing and talking with a local pilot by the last name of Purvis, who ran a single-plane air service off that dock, he also got to chatting with another local pilot. This fella was in his mid-thirties maybe, older than me by a bit at any rate, and he was about to head out to check a landing strip. Bush flying in mainland Alaska is way different than in Southeast; they use balloon tires rather than floats to reach the remote locations. I'd grown up on floats, and my father knew I'd never done any of that kind of flying. He talked this dude into letting me hop in the backseat of his Piper Super Cub and go for a ride. Something like 1 in 12 of Alaskan citizens are pilots, with a great many of them cut from the same cloth as the gentleman I found myself strapped in behind (we'll call him Captain Ahab because I don't remember his name and it will make sense in a minute). Ahab and I taxied down the road (yes, the same road any car in town would use – welcome to Alaska) and took off in about 3 feet, as a light Super Cub doesn't need much more room than a helicopter, and headed off… somewhere. We buzzed our way out over the town and headed over the islands to a single one in particular that Ahab had been wanting to take a look at. Again, I'd never done any of this kind of bush flying, so when he started circling I realized he was preparing to land and started looking for where I thought he'd touch down. I honestly could not see a single stretch of ground I'd have been comfortable gliding into as a last resort had my engine quit. Have you ever seen a trucker take a sharp turn, back into a loading dock or merge their way into a tight spot on the highway and marvel at how the vehicle seems to be an extension of their own body? Ahab was one with his plane; chopping the power after clearing the last few treetops, he deftly kept the right wing up over one small spruce as he touched the left wheel down, followed by the right. He paced the distance of our short landing area, made sure the ground was firm and level enough for take-off should the plane be heavier if he returned later and took a deer and, mission complete, we loaded back up for our return flight home. We started up, taxied back to the tree line, dropped all the flaps, and blasted out of there. He could tell by the smile on my face that I was having an awesome time, so we took a circuitous route home to do some beach combing; he said his wife collected the glass floats that Japanese fishermen used in their nets. Flying low, we skimmed over the beaches in a roundabout route back towards Cordova. With eyes peeled, I suddenly realized that Ahab had eaten something the night before that didn't agree with him. He realized the same thing about me, but rounding a point of the beach we were air-combing we saw that neither of us was stuck in a plane with someone suffering gastronomical distress – it was Moby Dick. Not really - it was a humpback whale, not a sperm whale. Washed ashore, deader than disco, and reeking to high heaven was a great big sea mammal working on its tan. Ahab (see, makes sense – sort of), having already outgrown the boyish desire to poke dead animals with a stick, circled once but didn't land. We continued on a bit, touched down on the beach (again, landing on completely undeveloped land seemed amazing to me), checked a knot of debris for glass floats but came up empty, then headed back to Cordova. I thanked Captain Ahab profusely for taking some punk kid flying with him and hurried out of the middle of the road so he could stop blocking traffic with his airplane. Dad and I spent the night in town, having decided during my side-adventure that the forecast precluded us from continuing on that day. The plan was we'd wake up early, head to Anchorage, and be home eating dinner in Ketchikan the next night. Things don't always go as planned, however, and dinner was rice and canned tuna in a Forest Service cabin on Montague.
Check back next week for the rest of the story and how a Forest Service cabin saves a misadventure from becoming a complete disaster.
Tags: No tags found Posted in stories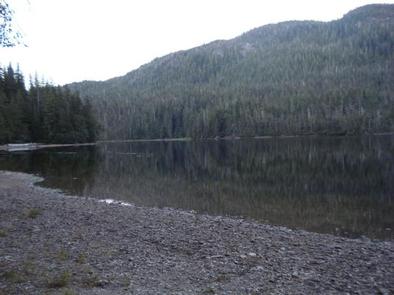 Ella lake, located in the Misty Fjords National Monument, will always be dear to me – specifically the Ella Narrows Forest Service cabin. For my 10th and 12th birthday, my mother rented the cabin for me and some friends for a few days, and my father or one of his pilots flew us out. My 12th birthday was especially memorable because my father, operating Twin-Otter seaplanes at the time, was able to pack me, my brother, our labrador Gunner, six friends and a chaperone into one plane for the 20-minute flight to the lake. The cabin is designed to hold six guests on the two single and two double bunks, but we made it work. Upon arrival, we hit the beach like we were storming Omaha and raised general hell for four days; 8 kids, a cool chaperone, bags of fireworks, and plenty of axes to go around.
All USFS cabins, at least the four or five that I've been to, follow the same 12 X 14' design. Half the room is occupied by two bunks with a table in between. There is a window/refrigerator (shelves built outside the window, surrounded by a cage, allow you to keep the food you don't want at room temperature protected from varmints but at hands-reach). One wall has shelves built along it with cupboards overhead, and there is a wood burning stove taking up the remaining space. The bunk/table situation is pretty cool as the bottom bunks are extended to provide sleeping room for two (top bunks are singles unless you're very friendly or kind of tiny), but also double as seating for the table located between. A lot gets done in a very small space with these cabins, and if you're willing to cram a couple people under bunks on the floor they can accommodate more than just the six sleepers they're designed for.
To either side of the Ella Narrows cabin you'll find, in my opinion, one of the two best sections of beach in all the world. To the East is a roughly 200' long stretch of what Alaskans call sand, something in short supply in our area, but the beach to the West is my favorite. Although the beach is made of rocks ranging from D1 to basketball-sized, by and large, they're weather-worn smooth, so you can navigate without shoes on and not lose any blood. Extending into the icy waters off this beach, however, is a good basketball court-sized area of shallow water. Sediment deposited from the mountain run-off has created a 2-4 foot deep area of water that warms a bit during the day. By no means "comfortable" by bathing standards, it does maintain a temperature high enough that you can play a few downs of tackle football before catching hypothermia. (Side note: there is an even larger flat like this at the inlet of Lower Mirror lake, but if you want to spend a weekend camping there you'll need a tent.) During my 12th birthday camping trip, we spent a lot of time at this beach. There are some large dead Alder trees near the beach, so we axed a couple down and had a roaring fire going for most of our stay. This allowed us the uncommon opportunity to spend the days soaked to the bone without turning mostly blue.
Besides swimming and hewing our way through the dead Alders, we spent a lot of time playing with fire. My birthday is in June, so our trips to Ella were punctuated by the whistling of bottle rockets, the boom of artillery shells, and the frantic screams of pre-teens noticing a lit 50-pack of Blackcats arriving near their location. When we weren't trying to blow ourselves up, we spent a lot of time seeing how large we could make our beach fires. My brother, ever the arsonist and envelope-pusher, even tried to burn down our cabin at one point. With most of us out in the boat putting around trying to catch cutthroat on the lake, I noticed a flashback toward the cabin. Once we arrived back, we noticed that Jack had decided to… mop the outside deck? Apparently, he'd been playing with some lighter fluid, scorched some supplies on the porch, and covered it up by dumping a bunch of soap and our drinking water all over the place. Compared to jumping out of a tree and puncturing an artery in his thigh with a stick, years prior, or rolling our Dad's Land Cruiser on a pre-licensed joyride, this didn't really even make the top-ten list of "What was he thinking?"
Forest Service cabins provide a modicum of civility to even the uncivilized. Anyone planning a trip to Alaska would be wise to consider spending a night or two in one of these rustic but comfortable chalets. They come stocked with firewood, they have a boat with oars, and they're serviced every year by crews that ensure a safe, clean environment for you and your family to enjoy a few nights in the Alaskan wilderness. Guests can visit Tongass Trading Company for any camping gear they don't bring with them. Many of the cabins are located on alpine lakes in the Misty Fjords National Monument, so chartering a seaplane flight from any of our air-taxi's is recommended. Others, such as Winstanley or Alava Bay cabins can be reached via boat. Whatever your desires for a rustic getaway, the United States Forest Service has a location and cabin built just for you.