Location:

Baranof Marina
Ketchikan, Alaska

Duration:

5-6 hr

Lunch:

Price:

$AF-A-price

per person
Leave the dock primed to pursue a combination of salmon and halibut. The goal is to catch fish and have an extraordinary day.


General Information
Anyone can put a line in the water, but it takes special skill to catch Alaskan salmon, halibut, and bottom fish. After spending most of their lives unraveling the mysteries of Alaska fishing, your experienced fishing guide is skilled at instructing you on the ins-and-outs of Southeast angling. What's more, they really enjoy spending the day teaching you what you need to know. As fishing conditions change throughout the season, and taking into account the days tides and weather, this multi-species Alaskan fishing expedition allows you to head out with confidence that you will catch fish. Your captain will recommend those species that have been producing the most in recent weeks, and help determine a game plan for the day; salmon fishing with halibut as time allows, or vice versa . During the peak of the summer season from June 15th to August 15th at the height of the salmon run you will have the best chance at catching multiple species.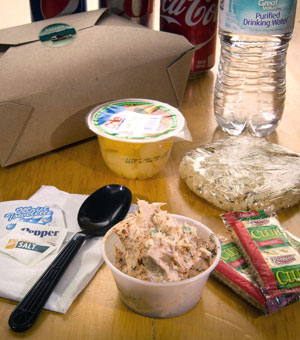 A six-hour fishing trip is a long time to go without anything to eat, so every day our restaurant prepares a taste of Ketchikan for each guest on any fishing excursion over six-hours. Over the years we've tried several lunches, and have found the following is a great tie-over snack until you can eat your catch at our wilderness camp or restaurant:
Local Salmon Spread | Crackers | Fruit Cup | Cookie | Bottled Water (numerous soda options)
If you have special dietary concerns, please let us know. Also, if you don't prefer salmon, are on a diet this meal doesn't work with, or like to pack it in at lunch, you're welcome to bring other food and snacks on board. We have a cooler that can keep sandwiches and such cold, but as a rule of thumb, anything that you might pack for a day hiking works well.
---
Fishing Itineraries
If you are visiting Ketchikan by Cruise Ship
We suggest beginning the excursion thirty minutes after your ship is scheduled to arrive in Ketchikan. The following time line is for a six hour Ketchikan fishing adventure.
If you are overnighting in Ketchikan
For those travelers who arrive in Ketchikan by the State ferry or Alaska Airlines, and are staying longer than one day, we can arrange for multiple days on the water. We suggest beginning your fishing trip before 10:00 a.m. the ardent fisherman normally leaves between 5:00 and 6:00 a.m. However, fishing is often better at tide change, so we will suggest the most opportune time for you to arrive at the fishing grounds so you can "catch the tide". The itinerary that we have provided is a one day six hour trip. Most trips will differ only in the allotted time of fishing to fit your needs, and all trips can be duplicated for multiple day trips.
"What People Are Saying About Baranof: Alaska Fishing"