Location:

Baranof Marina
Ketchikan, Alaska

Duration:

6 hr

Lunch:

Price:

$249

per person


$325

w/ cook your catch
Leave the dock primed to pursue salmon and halibut. The goal is to catch fish and have an extraordinary day.
Request Info
General Information
This comprehensive fishing experience is intended for the avid fisherman who wants to learn the finer points of Alaskan fishing. Our private marina is located in downtown Ketchikan, so you'll have a full day to learn the salmon and halibut fishing techniques of Southeast Alaska. With this custom experience—limited to five guests at a time—every fisherman has the benefit of fishing their own rod. After a day of trolling, jigging, and mooching, you'll know the difference between a spoon and a hoochie, as well as the best way to catch a King, Coho, pink salmon, or halibut. Best of all, whatever you catch is yours to keep. In fact, we'll even process it, flash freeze it and send it straight to your door—along with some of our best seafood recipes!
The challenge with salmon fishing in Alaska is that it is completely reliant on the annual return of the salmon from the Gulf of Alaska to the inside waters. Accordingly, each of Alaska's five species of salmon has a limited number of days in which they are best available for exceptional fishing.
We model salmon fishing on our Alaska Fishing excursion around the approach of local Alaskans. We leave the dock well informed as to what was working the day before to catch salmon: Where are they? How deep are they? What bait or flashers are working? And not only do we come fully prepared, we also have the time to pursue halibut and bottom fish if the bite is not on for salmon, or a particular group has limited-out.
During the peak of the summer season, from June 15th to August 15th, you will have the best chance at catching multiple species. After spending most of their lives unraveling the mysteries of Alaskan fishing, our fishing guides have the skills, knowledge, and equipment you will need to catch Alaska's salmon, halibut, and bottom fish. Whether this is your first catch or one of many, your captain will make recommendations to your group so you can target those species that have been most recently producing.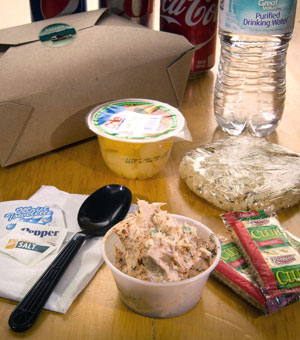 A six-hour fishing trip is a long time to go without anything to eat, so every day our restaurant prepares a taste of Ketchikan for each guest on any fishing excursion over six-hours. Over the years we've tried several lunches, and have found the following is a great tie-over snack until you can eat your catch at our wilderness camp or restaurant:
Local Salmon Spread | Crackers | Fruit Cup | Cookie | Bottled Water (numerous soda options)
If you have special dietary concerns, please let us know. Also, if you don't prefer salmon, are on a diet this meal doesn't work with, or like to pack it in at lunch, you're welcome to bring other food and snacks on board. We have a cooler that can keep sandwiches and such cold, but as a rule of thumb, anything that you might pack for a day hiking works well.
---
Fishing Itineraries
If you are visiting Ketchikan by Cruise Ship
We suggest beginning the excursion thirty minutes after your ship is scheduled to arrive in Ketchikan. The following time line is for a six hour Ketchikan fishing adventure.
If you are overnighting in Ketchikan
For those travelers who arrive in Ketchikan by the State ferry or Alaska Airlines, and are staying longer than one day, we can arrange for multiple days on the water. We suggest beginning your fishing trip before 10:00 a.m. the ardent fisherman normally leaves between 5:00 and 6:00 a.m. However, fishing is often better at tide change, so we will suggest the most opportune time for you to arrive at the fishing grounds so you can "catch the tide". The itinerary that we have provided is a one day six hour trip. Most trips will differ only in the allotted time of fishing to fit your needs, and all trips can be duplicated for multiple day trips.
---
Testimonials
"What a memorable excursion! Our guide treated us so well that by the end...we felt like family! Not only did we catch our limit of fish, but (our guide) also made sure we got great photos of our catch, the beautiful scenery, and eagles in flight!"
- Henry
"This rugged, natural experience surpassed all of our expectations for Alaska and for the tour. Our guide was appreciative of the gorgeous landscape that he calls home and generously provided us the opportunity to experience a day in his life"
- Michael & Kristina
"This excursion was flexible and personal. Our tour guide was friendly, casual, and informative about the area and living in Alaska as well as about fishing. She adjusted our fishing sites to make sure we caught fish and made the whole experience fun!"
- Jan