Baranof Blog & Fishing News
We have big news for our 2021-fishing season: they have increased the size limit on the halibut you're allowed to keep! The International Pacific Halibut Commission (IPHC) has just announced the lower slot limit will now be increased to 50 inches for the entire 2021 season, allowing anglers to keep one halibut under 50 inches or over 72 inches each day. This is quite a significant jump from 2019s regulations of 38 inches, approximately 25-pounds, to 50 inches, approximately 60-pounds, allowing guests to keep halibut up to 35-pounds heavier! The time is now to start planning your fishing trip!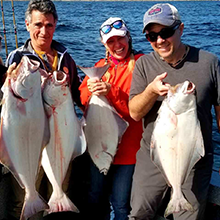 Hunting for Halibut: This halibut fishing trip is geared towards the more focused fishermen who wish to spend their entire day hunting for halibut. Although our focus is to catch halibut, bottom fish such as rockfish, lingcod, and pacific cod are commonly caught where we fish for halibut. This six-hour fishing trip allows for 4 to 5 hours of fishing time pursuing Halibut. The amount of fishing time depends on how far we need to run to reach ideal halibut grounds. Our Hunting for Halibut trips take place in our 24 ft. Cabin Cruiser vessels which can accommodate a maximum of 6 passengers and fish with an average of four or five.