Baranof Blog & Fishing News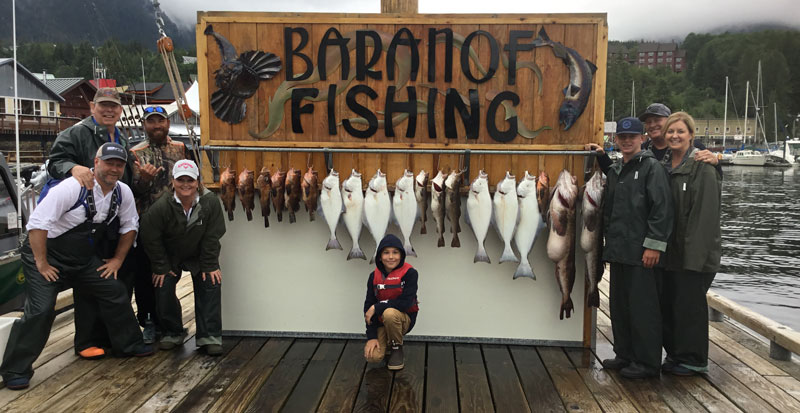 2019 was a tremendous year for us as we hit new highs in customer satisfaction in the restaurant and on the water. Using this momentum, we're making some improvements to our culinary offerings as well as the fishing fleet.
New skiffs!
The most noticeable change any of our repeat customers will notice is that we're upgrading our 5-passenger open-air skiffs to a completely new design better suited for light-tackle fishing. These new boats are a couple of feet longer, console driven rather than a tiller, will be equipped with a 115 h.p. motor, include an upgraded electronics package, can seat 6 passengers and feature a trolling motor that will "anchor" the boat anywhere through GPS integration. Construction has begun on seven of these new vessels for 2020, so we'll be getting photos out as soon as we get a couple in the water this spring.
Seafood Invitational
Cook Your Catch, whether in our private dining room or at our wilderness campsite, is our passion. Most of our guests that come up for more than a cruise ship calls have already had a taste of our multi-day fishing/dining options, but this year we're taking it a step further. We're telling the comprehensive story of Alaskan seafood over the course of five choreographed meals featuring twenty-five unique species. Check out our invitation here for dates as well as a complete description, it's going to be quite the production.
Merry Christmas, happy holidays, and a blessed New Year from the Alaska Fish House and Baranof Fishing crew. We look forward to seeing our friends, old and new, during the upcoming season.
Tags: No tags found Posted in Alaska Fishing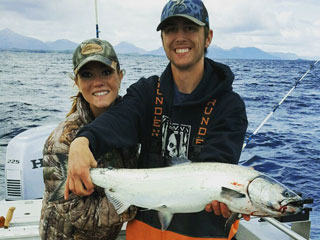 The day this story takes place started out like many in southeast Alaska - rainy and windy. Even though it was mid-July, when the weather is generally more agreeable for fishing, this day was an exception. It was blowing hard enough that I didn't even venture past Bold island, which is generally only a mid-way point to our halibut and salmon grounds. This was especially frustrating because I was fishing with two gentlemen who have been guests on my boat for the past three years. I look forward to them coming up each year and enjoy their company when they are here.
I knew the halibut fishing options were limited, so after a talk with the guys, we opted to fish for salmon since the pinks and silvers were fairly thick and were making showings close to town. The salmon bite had been pretty vicious till about 8 A.M. in the days prior, so I had high hopes that we would whack a few before the bite slowed. On this particular morning, the bite was spotty at best. We would hit pockets of fish and land one or two, then double back only to not get a bite, let alone a takedown. On top of this, the driving rain and howling wind made it difficult for all parties involved to land the fish we were hooking (this wasn't looking good).
As the morning progressed, we spent more time catching up with each other than high-fiving and catching fish. All the while the wind was twisting our arm and driving us closer towards town looking for better protection from the weather. During the final hour of the trip, I made the call to make our last few passes at Mountain Point (a popular but productive spot about six miles from our dock). Almost as soon as we started our drag, the down rod blew out of the clip and started taking line - fish on!
I call for my friend to "grab the rod!" - he pulls it out of the holder and starts his fight. It fights like a nice silver and I cross my fingers we can land this one to end the day on a high note. The fish appears on the surface forty yards behind the boat, jumping and tail-walking like a tarpon you would see on T.V. We all have our eyes on the coho, but unbeknownst to me, we are not the only ones watching its big show. As we start gaining line on the fish I catch sight of what looks to be a brown and white tomahawk missile coming out of the sky. In about half a second we all put together what's happening; a bald eagle that had been perched off of the Point had targeted our fish. He hits the water fast and clips the fish, sending it into a frenzy straight toward the boat. It's all we can do to keep up on retrieving the line and putting tension back on the fish. In no time flat, the fish has reached the boat. I grab my net and get ready to attempt to scoop the very green silver when all of a sudden another missile screams by us! The bird is back and he means business - no more than six feet off the starboard side, swooping at the fish, gaining altitude and attempting again. All the while the fish is on the edge of spitting distance and out of net range. Now we make a decision - we need to "horse" this thing to the boat or we are going to have a serious mess on our hands. We leverage the rod and ski the fish within the net range. I dip my net in the water just as a simultaneous eagle attack occurs. The fish goes into another frenzy, this time wrapping itself around the downrigger cable several times. I take one more dip at him but I know what's about to happen… I can't get deep enough to reach the fish and he is wearing the mainline out on the wire cable! The line snaps and the fish rockets off, the bird flies away, and in the ensuing quiet all we can do is look at each other with expressions that say; "We just can't get a break, can we?".
We end the wet and windy day without landing another keeper but return to the marina with one of the most eventful salmon fishing stories any of us have ever heard. Fishing is a game of anticipation, artistry, and passion. Catching an elusive species, landing a trophy-size monster, dropping a fly perfectly into a river's eddy or competing with another apex predator for the same fish all amount to the same thing – living a once-in-a-lifetime experience. On the worst of days, we accomplished exactly that. After tying up and shedding our raingear, we went to the restaurant where chef Austin cooked up some of the fish we had caught earlier in the morning. My clients and I capped off their fishing vacation with a 5-star meal, while our conversation focused on the highlight of their vacation - we all agreed that the "mottled missile" made the day.
Until next year guys!
Captain Ramirez
Tags: No tags found Posted in Alaska Fishing