Baranof Blog & Fishing News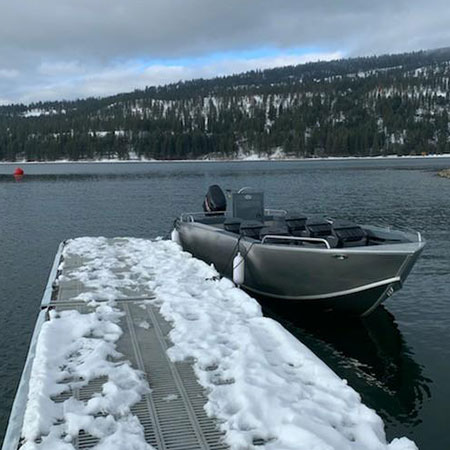 Nonpelagic rockfish will no longer be available for retention in the 2020 season. For the last 19 years, these fish have been a reliable target species for our Wilderness Dining guests, as well as a welcome addition to the table during our Cook Your Catch excursions. We're addressing this closure by expanding our abilities to target any of the other 50-odd species that we can reliably target on a given day. One key enhancement will be our improved electronics package that will enable our captains to find schools of salmon and pelagic rockfish, with another being the introduction of our autopilot and trolling motor capabilities.
Garmin has really become the leader in sportfishing electronics, and our boats are outfitted with the best of the best that Garmin has to offer our class. The navigation displays are 1042xsv series GPS maps units that not only allow for pinpoint accuracy in boat-to-bottom navigation, it also allows for an amazing 1000 watts of power to be fed to the boat's state-of-the-art sonar sounders and Panoptix setup. We'll be utilizing Garmins GT54UHD sounder that provides for a low-frequency chirp to really paint the bottom of the ocean floor along with an ultra-high frequency chirp sounder that auto-adjusts from 800 to 1200 kHz. This allows you to not only see fish swimming at depth but in so much detail that you can actually see kelp forests sway with the current, see your bait descending to the bottom and even the fish coming out to bite on what customers have placed in front of the fish. Truly amazing sonar ability.
Next on the list of new upgrades is the new Panoptix live scope technology. This is a sonar system that really leaves little to the imagination of what is below your boat. This live scope system uses three independent sonar scanners to produce a 3D image of what is swimming below. In real-time imagery that shows you the fish's depth, distance, and direction in relation to the boat. Pelagic rockfish, lingcod, and salmon will be painted across the screen with their location data so the guide can assist customers in not only knowing where to drop but how deep to drop the line. It's like having your own personal diver with an underwater camera filing to your fish finder's display.
Both the skiffs and our hardtop Coastals will be equipped with GPS controlled autopilots. Our skiffs are using a 36-volt electric trolling motor that has a GPS spot lock function which allows the captain to lock the boat within a 3ft radius of a GPS location. This allows the captain to target specific species without the need to anchor or drift. Along with the ability to GPS anchor lock, the boat will have the ability to run a trolling route for targeting salmon or other pelagic species hands-free. The trolling motor will allow captains to spend less time on the tiller and more time getting fish onboard. Our hardtop Coastals are getting their own version of this same type of autopilot. Rather than a trolling motor mounted on the bow, however, the larger vessels will be utilizing their kicker motor which is networked into the 1042xsv nav unit to hold a course heading, back troll an area, or hover over a group of pelagic fish.
Tags: No tags found Posted in Alaska Fishing