Baranof Blog & Fishing News
Planning on fishing out of Ketchikan this year? Better know the regulations… We have our top species listed with some insight from captain Tony Moucha to give you a guide's perspective on the coming season, along with a link to the full ADF&G regulations book. Take a minute to check it out here as you plan your Ketchikan sport fishing adventure with Baranof.
Tags: No tags found Posted in CAPTAIN'S REPORT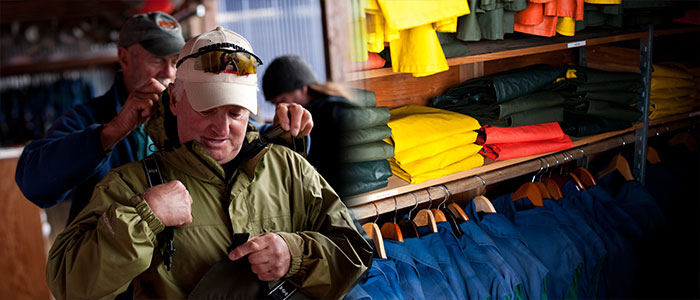 When Baranof first started, we were outfitting our guests out of the back of a canopied truck. I spent a half-hour each departure rummaging through stacks of boots, raingear, gloves, etc. as we decked out our guests. That first year I was making multiple trips each morning to Tongass to buy extra gear as we ran out of the appropriate sizes. (Our initial offering of Wilderness Dining attracted a lot of families, which it still does, so when we needed an extra-large or extra-small set of gear, it typically meant we'd need 4-5 for the whole family.) Fast forward 15 years, and my father's love for beating any problem into submission is evident by the fact that we have indoor dining at our restaurant… The seating area at the Alaska Fish House was originally built to turn our outfitting process from a necessity into an experience. As the popularity for the Fish House grew, however, we constructed an 80-foot outfitting room at our marina, which is still in use. Necessity being the mother of invention, however, we're not done yet – this winter we're building another outfitting room to be used in conjunction with our current building.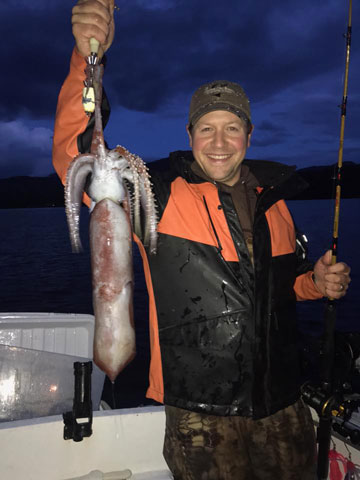 Enter William Hink, the master carpenter and night squid-fishing enthusiast. He has been working with Chuck for the last few years on all our building projects and his pride is evident in his work. This winter dad's turning Will loose on a new outfitting room that will serve not only as a place for our guests to get garbed for Southeast weather, but will play a critical role in the Baranof experience. William enjoys working with Chuck because his creative side is encouraged; dad wants Will to spend a little extra on fancy nails, for example, if they're to be used where guests can see them. (That may sound silly to mention, but my point is that the finest details are not overlooked when William puts together a blueprint.) Outfitting guests for a day on the water are sort of like the opening act at a concert; the customer often views every minute spent as wasted, and keeping them from what they paid to see. It's William and Chuck's mission to provide a venue that allows our opening act to be an authentic, memorable Alaskan experience.
We'll be posting photos of our progress in the months leading up to the season. Check back here or on any of our social media outlets for updates and discussion; first-time guests will garner a little peace of mind knowing they don't have to dress for an arctic expedition for a day of fishing in Ketchikan.
Tags: No tags found Posted in Alaska Fishing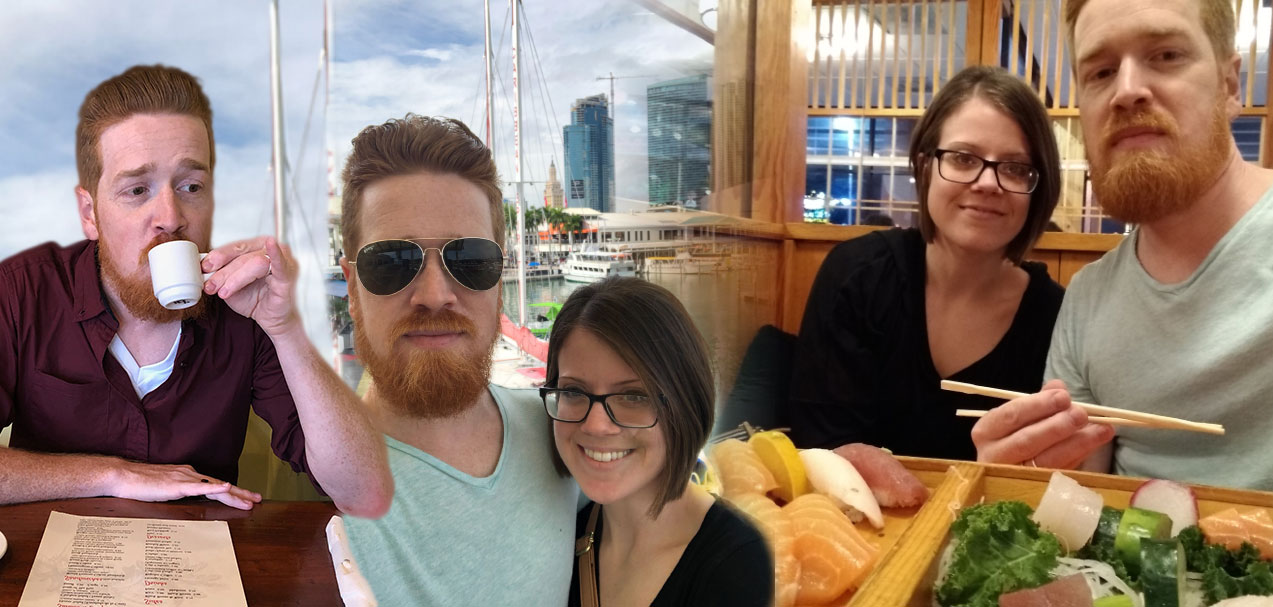 For the last 30+ years, my father's companies have been involved in the cruise ship tourism industry. During that time, he's gained a fair amount of insight into what makes them tick. He's developed and maintained professional relationships and personal friendships with many cruise line employees, and he's seen assistant shore excursion managers work their way up the ladder to senior management. He's maintained these relationships and addressed his business concerns through one-on-one interaction by traveling during the offseason to get in front of the cruise line decision makers. Only so much can be done over the phone or via email, neither of which plays to his strengths of identifying an opportunity and addressing it swiftly. I've had the pleasure of sitting in on many of my father's meetings, dinners and dockside interactions ever since I was a child in St. Thomas, U.S.V.I., and this year the training wheels came off as he sent a team, rather than himself, to meet with some of the cruise lines based in Miami.
My wife and I, along with Bonnie Steinberg (you can get to know her here) and her husband arrived at Miami International the weekend prior to our Monday and Tuesday meetings to get over the jet lag of traveling from Alaska and Missouri, pad around Bayside Market for a day, and meet with each other to go over our information and game plan. We knew what we wanted to present to each cruise line, but even though I'd come up with an agenda and set of goals to accomplish with each group, the entire point of the trip seemed very nebulous to me.
"What are we trying to do down there?", I asked my dad.
"I don't know – whatever. We're not really offering anything new, but every time I've made a trip to sit down with these folks, something has happened that made me glad I did. Get to know them, let them get to know you, and good things will happen.", was his response.
I'm glad I made the trip. While I've been excited to work for my father and be a part of the team that he's created, getting in front of our business partners has changed things for me indefinitely. I thought I had a clear idea, but never understood the passion that the people that are successful in this industry have for providing memorable experiences to their guests. I'm not talking just about Baranof; this website is replete with me expounding on the authentic, family, exclusive, etc. experiences we provide. I'm talking about the cruise lines. It blew my mind that out of the hundreds, if not thousands, of excursions that each one of these lines offer, the managers we met with knew in intimate detail every aspect of our little operation in Ketchikan, Alaska. I can't overstate their commitment. Bonnie and I, along with our spouses and a cameo by guide Jeff Kraynik, spent an hour or more with each cruise line over the two days we were down there identifying what we do well and areas for improvement. These are busy people, and I was prepared to be ushered out after a courtesy meet and greet, but to a business, they were bringing in customer service specialists, shore excursion managers, inventory control directors – you name it. My point is this; while any business will tell you they work hard to provide a great customer experience, I can promise that every cruise line I've met with to date will offer only a great customer experience. They are large companies, which in my small-town mind would intuitively preclude them from offering the attention to detail that a mom-and-pop operation can. The converse is true here – with the backing only a multi-national business can provide, these groups have provided the resources and qualified personnel to ensure that each one of their thousands of guests is treated personably, respectfully, and as a valued customer.
I've been proud to find work at my father's company and be a part of what he's built. Since our trip to Miami, that pride now extends to this entire industry. While the goal of any company is to make money, I know that we're blessed to be working with companies and individuals that enjoy their work for the service they provide. The successful people in this marketplace, as with any, are those passionate about what they do. In this industry, that translates to directors and managers as concerned about you checking bucket-list items off as you are, with a commitment you can't demand with salary alone.
Now, if they could turn their attention to detail to the traffic situation in Miami, the world would be a truly remarkable place
Tags: No tags found Posted in stories