Ketchikan's number one attraction
Every year, over a million visitors arrive in Ketchikan. A large portion will take a sightseeing excursion to Rudyerd Bay in the Misty Fjords either by chartered boat, seaplane or high-speed catamaran. The pristine wilderness landscape and unique glacier-sculpted mountain and rock formations make this national monument a must-see for anyone that passes through Southeast Alaska.
Points of Interest
Extending 2.3 million acres across Tongass National Forest, Misty Fjords is the largest wilderness in Alaska's national forests and the second largest in the nation.
While Rudyerd Bay provides the most intimidating scenery with the least amount of travel time, and is an excellent addition to your Southeast experience, the entire area provides majestic wilderness exploring opportunities for those that wish to tread where few others have. If you seek the path less traveled, the 2.3 million acres that comprise the Misty Fjords National Monument has a location perfect for you on your private charter.
Whether camping, kayaking, hunting, fishing, or sightseeing, there are any number of excursions available that will enable you to enjoy the natural wonder of our National Monument. Here at Baranof, we consider ourselves uniquely suited to provide a wealth of these opportunities to anyone looking for a private, personalized adventure through this rugged landscape in complete comfort. Whatever your idea of a great day in the Monument, we are able to provide a chartered boat that can provide it, or introduce you to one of our recommended seaplane operators.
30 ft. - Our 30 ft. Raider cabin-cruisers are ideal for a day or overnight excursion to the Misty Fjords. Complete with heated cabin and head, this vessel allows you to explore every bay and inlet that strikes your interest without ever having to set foot on shore. With an open aft deck for unobstructed viewing and twin 225 hp Hondas for swift travel, your options are limited only by your own imagination.
24 ft. - Our standard cabin-cruisers are a less expensive version of the 30 ft., which are a little slower and don't have a built in head. Designed for use in the protected waters of Southeast Alaska, covered bench seating replaces this space. Picnicking on a remote beach in the Fjords is an excellent option enjoyed by guests chartering these boats.
Our Misty Fjords charters focus on sightseeing. Dropping a line and pulling up halibut, lingcod, or snapper, along with a beach stop at our remote campsite for a gourmet meal, rounds out the day. It's your boat, however, so get with the us and plan out a day that best suits your needs.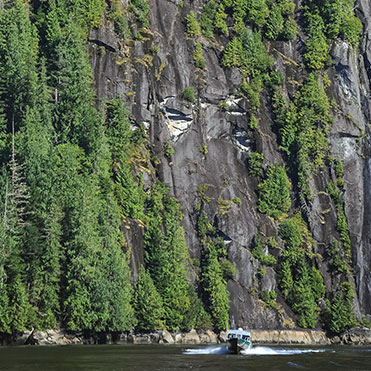 Punchbowl Cove
Granite walls from sea level to 3000ft.
Sheer cliffs and thick rainforests comprise Punchbowl's breathtaking landscape.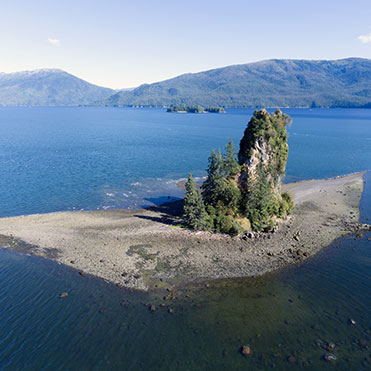 New Eddystone Rock
A pillar of basalt in the Behm Canal.
New Eddystone Rock was part of a volcanic vent where magma rose repeatedly to the surface of the earth.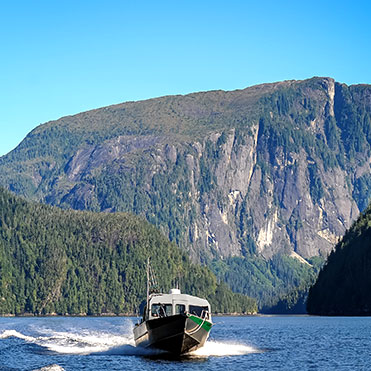 Rudyerd Bay
Most popular Misty Fjords destinations.
The scenery is stunning, with dramatic thousand-foot waterfalls plunging down covered cliffs to the water below.