Aaron has been a guide with us for the last four seasons. One of our favorite experiences at Baranof Excursions is to encounter someone with the raw skill to be good at something, and then to help them cultivate it. Aaron is smart, capable, and driven, and it shows. He started as a captain in one of our skiffs, introducing guests to our Alaska Fishing Wilderness Dining tour, but quickly moved into halibut fishing, then halibut fishing in outside waters, then fishing for cohos, and then learning the artistry required in catching king salmon. During this time, Aaron has become a truly excellent fisherman.
Aaron most enjoys mooching as a type of Alaskan fishing-not only for salmon, but also for rockfish and lingcod. He mostly runs j-hooks and fishes big grubs with 10-inch lead heads, with the goal of helping all of his clients have a successful day out on the water. If you're feeling antsy and really want to catch that fish, he'll be sure to give you the grub, as it works well for the active angler. If you're a greenhorn just learning the ropes, a good circle hook might do the trick for the easiest set-up. To put it straight, Aaron is always on top of any hang-ups, ready to problem solve to figure out what best suits the needs of both a buddy fishing as well as a professional angler.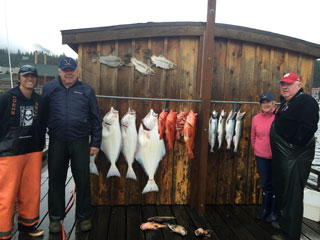 In the off-season, Aaron is attending Fresno State University and studying Business Management with an emphasis on Recreation. He's also an avid hunter from October to January. Whether it be duck, wild pig, blacktail deer, or mule deer, Aaron is bound to be out there in the wildest California spots for whatever is in season.
We have yet to see a crew of folks coming off one of Aaron's boats that didn't thoroughly enjoy themselves. Still in his 20's, he is one of our youngest guides. To his benefit, he has the technological savvy and "know-how" for which the millennial generation is known, combined with the technical skill and resilience of any good Alaskan fisherman.