A born-and-raised Alaskan, AJ spent his formative years hunting, fishing, and trapping from his family's home, a floating logging camp located northwest of Ketchikan in Neets Bay. If a biographer were to write about AJ's experience in the Alaskan outdoors, we can assure you it would most likely be to the tune of been there, done that. While many people talk about a desire to live comfortably by themselves in the wilderness, few really enjoy their own company enough to do so; AJ is one of the rare outdoorsman that could spend three weeks solo in the woods, and not get lonely.
AJ knows every nook and cranny of the area surrounding Ketchikan. His boat handling skills are renowned, as he has traveled most of Southeast Alaska in small skiffs during his trapping, fishing and hunting adventures. Out of all of our guides, AJ probably has the most eclectic and interesting stories of outdoor living in Alaska: he has guided on the Nushagak River in the Bristol Bay drainage hunting caribou and moose; chased mountain goats and Sitka black tail deer through the hillsides in Southeast Alaska; led brown bear hunters through the wilderness of the Misty Fjords National Monument; and caught halibut and king salmon off the coast of Prince of Wales Island. (He is, in our professional opinion, also the man you would want with you if you needed to build a fire in the middle of a rainstorm on a cold, remote beach).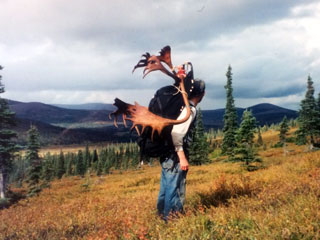 One of AJ's favorite fishing styles is trolling for halibut, using the boat's downriggers. He drops cut herring plugs down within feet of the ocean floor. The beauty of the technique is the ability to not only catch halibut, but lunker kings.
With AJ you'll also have the opportunity to get an in-depth understanding of the flora and fauna that makes up Southeast Alaska. Or, alternatively, if you would like to hear a recitation of one of the more popular Robert Service poems while out fishing, he'd be the guide you'd want.
When he's not guiding, AJ spends time with his son, Wolf, who will undoubtedly inherit AJ's love for wild spaces.