Baranof Blog & Fishing News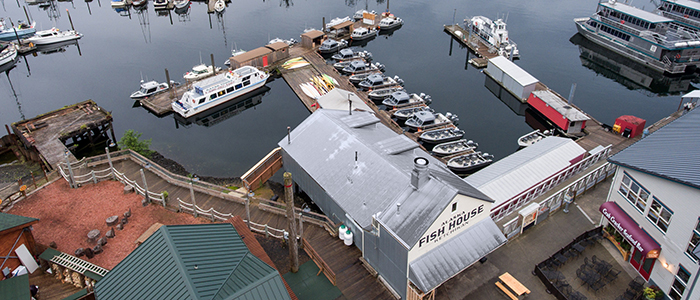 Graphics - Throughout the site, you'll see all manner of graphic content. Whether using photos sent in by a satisfied client has taken on their phone, historical photos supplied by Ketchikan Museums, or drone shots by Charley Starr, our Director of Digital Marketing, Jeimi Woffinden (who wished to remain nameless) has done an absolutely outstanding job of pairing content with pictorial representation. Our guides are provided with company cameras and are expected to snapshots throughout each one of their charters and excursions, leaving the guests to focus on their Ketchikan salmon or halibut fishing experience, which are then uploaded to our site for clients to download or link to their friends.
Analytics - Anything measured tends to improve. Towards that end, we use a number of different programs to track the customer experience on our site. By keeping a sharp eye on Alexa and Google rankings, bounce rate, and where visitors spend their time, we are able to identify areas that need to be improved or expanded upon. While that may seem Big Brother-ish, it's all for a good cause; knowing, for instance, that folks are spending time reading our blog, checking out our recipes, or amusing themselves by perusing our Alaskan Anecdotes stories enables us to focus on what our visitors value most.
Tags: No tags found Posted in Alaska Fishing

Baranof's website has undergone some dramatic changes over the last year or so. Our owner, Chuck Slagle, no longer believes computers, or even the internet, are just fads. He decided to invest a wealth of time and funding towards retooling the company web page by hiring and contracting proven and talented individuals to provide excellent graphics, content, and analytic overview. Our mission is to provide an informative, interactive experience for prospective clients, tell stories that our guests can live, and offer insightful recommendations on how to best enjoy Ketchikan. Here's how we do it...
Connections - Most of the people you meet in Ketchikan, and the rest of Alaska, are here because they can't imagine living anywhere else. Baranof, as well as most every other excursion company you'll come across here, is made up of these individuals. We are constantly seeking connections through our site with the companies we feel exemplify Baranof's passion for providing authentic Alaskan experiences. Our Explore Ketchikan section provides ideas for recommended activities, restaurants, excursions, and anything else we believe to be integral to what makes Ketchikan a wonderful place to live.
Storytelling - Baranof is about providing experiences, which manifest later as stories told by our guests to their family and friends. That being the case, a question we constantly ask ourselves when diving into a new project or looking to connect with another Ketchikan business is "What's the story here?" The focus of the web team is to tell good stories. Oftentimes, folks hop on a cruise ship or plane and travel to Alaska with expectations lower than they should be. Spinning a good yarn excites the imagination and educates our guests on what they can, and should, expect from their vacation in Alaska. For example, Ketchikan is known for salmon fishing, which is an excursion Baranof is proud to provide, but some folks get up here without realizing our main attraction is the amazing scenery found all around, especially in the Misty Fjords. We want our visitors to dream big, aim high, and leave Alaska having checked boxes off their list that they didn't even know existed. We encourage our clients to tell us what their story of Alaska sounds like before they come up and let us figure out how to make that story come true.
Tags: No tags found Posted in Alaska Fishing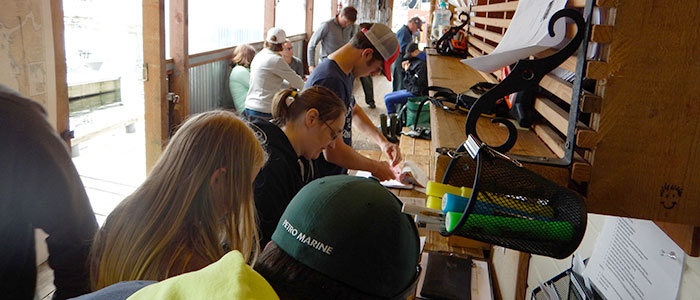 Preparing folks for a day fishing around Ketchikan means adding layers and getting licensed. Bonnie and her crew, along with the guides, do an excellent job of outfitting our guests with everything they need for a day of fishing for salmon and halibut in Ketchikan. Raingear, boots, hats, gloves, socks, dry bag, and life preservers are fitted for each client's comfort by their guide while the state of Alaska fishing license is filled out for each guest by Bonnie's team. Nobody goes fishing without a license, so until everyone is legal, Bonnie is in charge; you'll often see our owner, Chuck, with license book in hand scribbling furiously to avoid Bonnie's wrath. Once all the boats have left the dock, Bonnie gets to relax in the office settling billing accounts for about 100 guests before the cruise ships leave port. Once the passengers are back on board, she checks the next days counts and starts the whole process over again. Baranof takes thousands of guests fishing in Ketchikan, Alaska during a season, and we couldn't do it without Bonnie Steinberg.
Tags: No tags found Posted in Alaska Fishing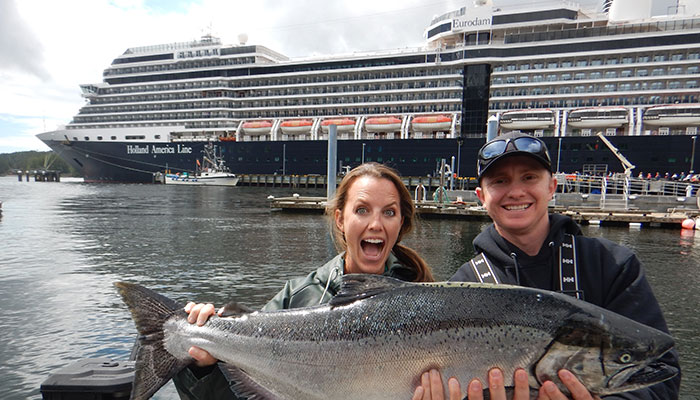 Ketchikan regularly gets up to ten thousand visitors off the cruise ships in a day. Many of them book tours and excursions through the ship, which means the tour operators pick them up on the pier to transport them to their company's location. That being the case, the cruise ship pier can get pretty hectic at times. Baranof Skiff Excursion's guests are usually some of the first to disembark, as our salmon, halibut, and culinary fishing excursions here in Ketchikan typically run the duration of our clients' stay in town. Bonnie makes sure everyone gets where they need to be at the right time. Depending on a world of factors such as departure time, specific excursion, mobility considerations, and weather, Bonnie must coordinate pick-ups and drop-offs for all our guests throughout the day. With a dedicated crew of dock reps at her disposal, and the option of putting our fishing captains to some actual work, she sends forth her minions to guide our clients to and from our marina.
Tags: No tags found Posted in Alaska Fishing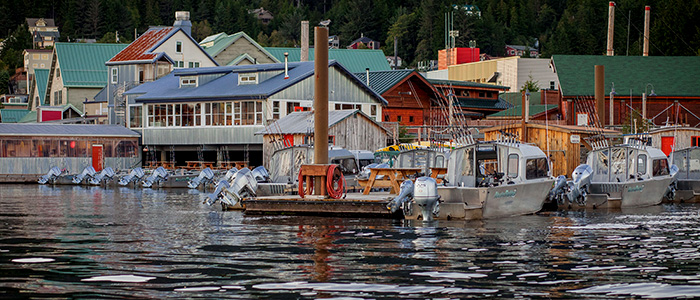 A typical day for the office crew at Baranof starts late the night before. We allocate a certain number of seats for salmon, halibut, and our culinary fishing excursions to each cruise ship that will call in Ketchikan on a given day. Based off how many cruise ships will be visiting, the size of the ships, time of year, our relationship with each ship's sales staff and their previous sales, and a magic 8-ball, we determine an expected number of guests from each. While the number for a specific ship is rarely exactly what we predict, when taken as an average we are very close at predicting a passenger load for each day. Typically, however, we don't receive those numbers until the end of preceding workday, which is when Bonnie starts working her magic. Organizing our 20 odd boats, with 4-6 passengers on each, over three unique Ketchikan fishing excursions (let alone the customized private charters), while keeping family's and parties together is an impressive feat accomplished by Bonnie and her crew. Once the plan for the next day is set, they're ready to hit the ground running in the morning as soon as the cruise ships hit the pier.
Tags: No tags found Posted in Alaska Fishing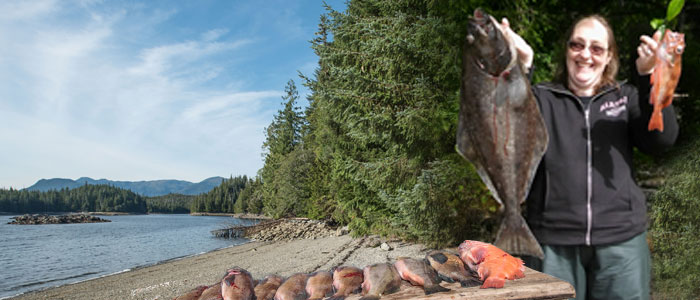 Most industries have a lot going on behind the scenes to get a product to the client, and tourism is no different. While there are the standard support teams such as accounting and HR, businesses like Baranof Fishing Excursions deal with a unique set of concerns. It takes a special kind of person to run the shoreside end of an operation such as ours. Good office managers for Ketchikan fishing companies require logistical skills, good situational awareness, calm under pressure, and the ability to work five months on a truncated sleep schedule. Bonnie Steinberg is our gal. Defined by her ability to stay focused and not lose her cool amidst the chaos, she exhibits the same control and care you might remember from your preschool teacher. Baranof is proud to have her, so we'd like to give you an idea of what her summers look like on a day to day basis.
Tags: No tags found Posted in Alaska Fishing

Last season, Jeff Kraynik was one of two captains guiding the Lee family on their Baranof fishing trip in Ketchikan. Jeff does a wonderful job of chronicling his adventures on Facebook, so we've just pulled that story straight from his page to share with you here:
Today, Baranof Skiff Excursions hosted (4) generations of the Lee family from Texas, New York & California.
It was a day of 1st for me, (4) of them actually!!!
1) I had the youngest client ever on my boat at (9) months old
2) I had the oldest client ever on my boat at (93) years old
3) I had (4) generations of family on my boat
4) I got to run the bosses boat, "Rosie"
Enough about me!!!
The Lee family chartered (2) hardtops for an afternoon of fishing then lunch at camp. The weather was bearable, then the wind picked up which forced us up Carol Inlet to hide behind the mountains.
On the first drop, Linh Lee hooked up as soon as her bait hit the bottom. The rod doubled over to the water and the fight was on.
Halibut!!!
Nope, it was a dang shark. Great fight but after pics back over it went.
We worked our way back out of the inlet to California Point and started mooching for rockfish.
(10) drops produced (9) rockfish to include coppers, Dusky's & Red Stripes. Capt Jack Finnegan's crew boated Quillback's and a Flounder.
The weather began to deteriorate pretty rapidly so with "precious cargo" onboard, we elected to skip camp and head back to the restaurant for lunch.
After cleaning our catch, the boss Chuck Slagle & Dockmaster Dennis Metzger got the clients squared away and seated for lunch. Baked rockfish, fries, cole slaw and a filet of salmon that the chef threw in for good measure was had by all.
I love this place!!!
Just one of many, this story does an excellent job of conveying Jeff's love of the outdoors, as well as his passion for sharing the experiences he values so highly with his guests. To read more, follow Jeff on Facebook at Jeffrey Allen Kraynik, or visit his website at www.coastalsportsmen.com.
Tags: No tags found Posted in Alaska Fishing

Jeff spent thirty years of his life in a career as a law enforcement officer. If you're lucky enough to get out on the water with him, you'll see his attention to detail from years on the police force translates directly to his skill as a fisherman. He embodies the word professionalism.
Jeff got hooked on fishing with his grandfather and father as a young boy, reeling in perch and walleye in Puti-In Bay on Lake Erie at his grandfather's cottage. He's also spent extensive time fishing for grouper, snapper, wahoo, and dolphin fish in Florida, which gave him a knack for bottom fishing. The bottom fishing skills that Jeff honed in Florida are readily apparent in Alaska. Jeff is consistently one of our top producing guides for our fishing guests. While salmon fishing and bottom fishing are areas that Jeff excels in constantly, his defining features, in Baranof's view, are his professionalism and passion for instructing children out for their first fishing trip in Ketchikan.
If you have children who are new to fishing, Jeff would be your guide! One of his favorite excursions is one where he gets to introduce a kid to the raw beauty of Southeast Alaska on their very first fishing adventure. Importantly, he doesn't ask the kids who go out with him to behave as adults; rather, he'll quickly be joining the kids in seeing the world from their perspective. And, as a true professional, he's versatile and adaptable. While you may find him wearing funny hats and joking around with the kids, we can assure you he'll also simultaneously bring in the catch with expertise and finesse.
Tags: No tags found Posted in Alaska Fishing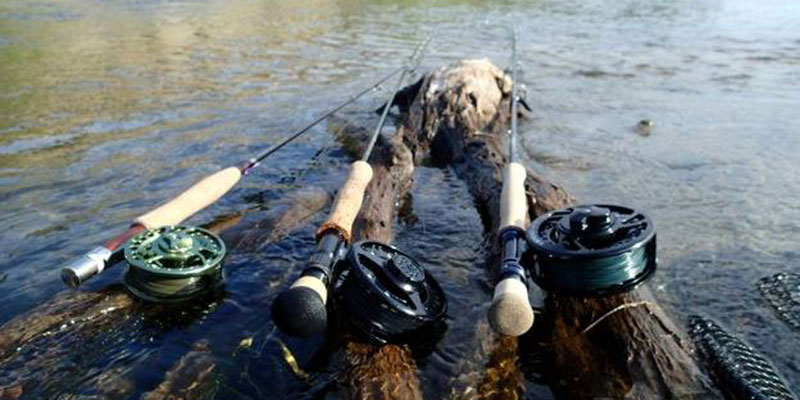 Trips like the one Steve took in 2014 are special. While they are available to anyone with the desire to undertake such a journey, everyone's Alaskan experience is unique. The most common mistake people make when visiting is expecting too little. Alaska is huge, with a world of opportunities for any outdoor enthusiast. Steve wanted to fly fish, so he wore himself out reeling in salmon and trout for a week in the middle of a pristine national park. Identify your own goals, decide what level of comfort is required, and dream big.
Tags: No tags found Posted in Alaska Fishing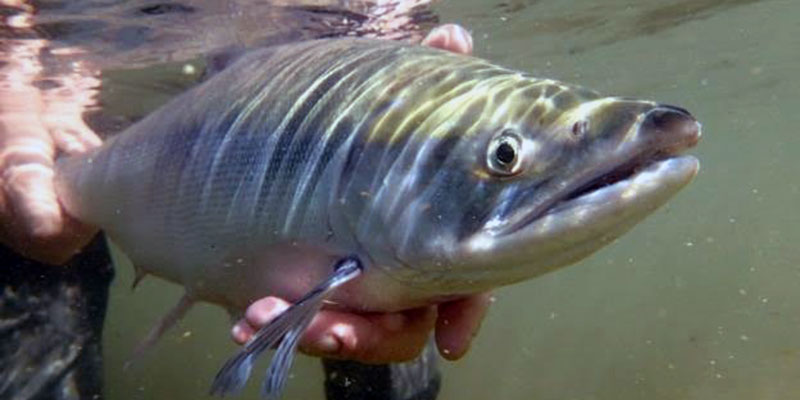 Katmai National Park is home to a wonderful cross-section of Alaska wildlife, as well as the sight of the largest volcanic eruption of the 20th century. The park was established in 1918 after the Novarupta eruption, and has remained a popular destination for scientists and tourists for the last 100 years. While Steve didn't visit the Valley of 10,000 Smokes on his trip, it is nonetheless worth reading about if you're unfamiliar. Scotty and Steve were there to fish; as were the bears. Katmai National Park is famous for large salmon runs, which in turn provide brown bears with the nutrients needed for winter. Wherever you find salmon in Alaska, it's a safe bet you'll find bear as well. Due to this, Steve was able to check a couple boxes on his bucket list on this trip, as he spotted his first brown bear, and landed his first sockeye while fly fishing. All told, Steve caught and released 33 sockeye on the fly rod, along with rainbow trout and arctic grayling.
Tags: No tags found Posted in Alaska Fishing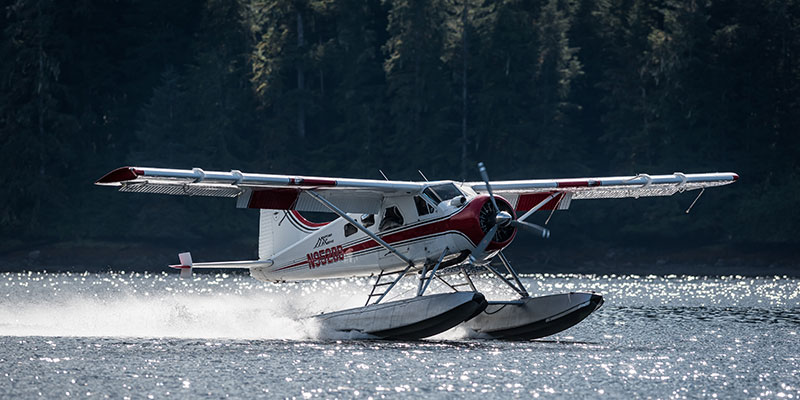 In June of 2014, Steve was stationed at Fort Leavenworth in Kansas. He and his fishing buddy Scotty decided to meet for a fly-fishing trip to the Alaska Peninsula. Steve had already been to Alaska, but this was his first trip to Katmai National Park. Hopping on a jet for the 2,700 mile journey from Kansas City to Anchorage, Steve met Scotty to gather supplies and prepare themselves for a week of fly fishing in the Alaska wilderness. After completing any last-minute outfitting they needed, Scotty and Steve boarded a DeHavilland Beaver seaplane for a flight out to Nonvianuk Lake.
Although the location and motivation change, Scott and Steve lived a vacation common for visitors to Alaska. Over six days, they were dropped off at one location, fished, hiked, and boated to another, and were picked up again by seaplane. For this particular journey, Steve and Scotty were dropped off at Nonvianuk lake, floated and fly fished their way down the Nonvianuk river, through the confluence of the Nonvianuk and Alagnak, and were later picked up via seaplane prior to the Alagnak terminus. Boats and seaplanes are the main modes of transportation in coastal Alaska, and until you head farther north, you're going to have a hard time getting anywhere that doesn't involve one or both of the two.
Tags: No tags found Posted in Alaska Fishing

With another successful, season in the books, it's time to kick back and have fun.
Diane Fast will be performing on the piano with special guests. Come enjoy an evening of reflection and relaxation with your friends and coworkers at the Fish House.
The Fish House will be CLOSED THIS WINTER for remodeling
Tags: No tags found Posted in Alaska Fishing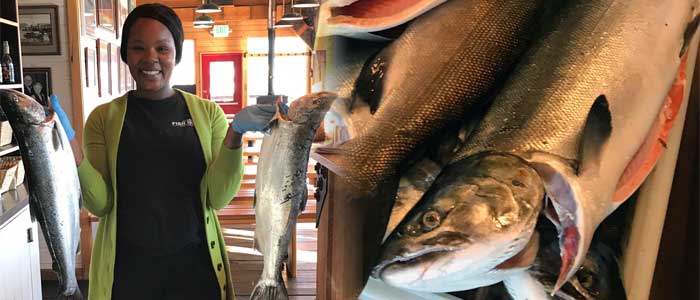 Tags: No tags found Posted in Alaska Fishing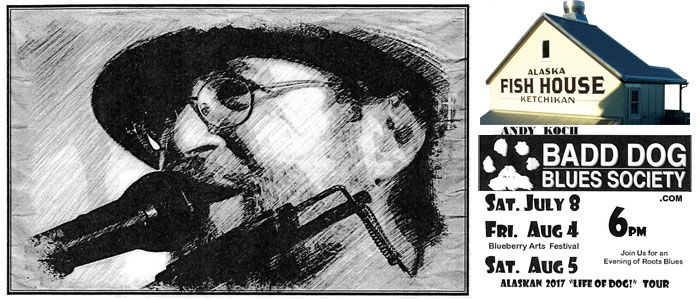 The Fish House will now be open Friday and Saturday nights until 9 pm. Come join us this Friday for dinner. Or on Saturday for dinner and a beer while listening to LIVE music featuring Andy Koch and the Badd Dog Blues Society starting at 6 pm. We hope to see you all!!
Tags: No tags found Posted in Alaska Fishing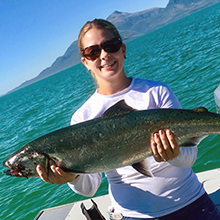 This excursion is a Salmon and/or Halibut fishing trip depending on current fishing conditions. This is the Alaska Fishing trip that we recommend to our clients that are primarily interested in Salmon Fishing. The important difference with this Salmon Fishing trip is that if the Salmon are not running we are going to run to a fishing location that allows us to target Halibut so that we catch fish. Your guide will discuss which species have been producing most in recent weeks before heading out. As a group, you will decide which species to fish for first and you may decide to spend more time fishing for one species over another. Our Alaska Fishing trips take place in our 24 ft. Cabin Cruiser vessels which can accommodate a maximum of 6 passengers and carry an average of four or five.