What will be your Alaskan Experience?
We challenge you to not just enjoy a classic Alaskan fishing adventure, but to set aside your evenings for dining on a portion of your fresh catch along with an Alaskan craft beer. Consider connecting with our wilderness whether it is hiking or kayaking. Our happiest clients embrace all that Ketchikan has to offer.
Traditional Ketchikan Sportfishing
Ketchikan is one of the most unique and beautiful fishing locations in Alaska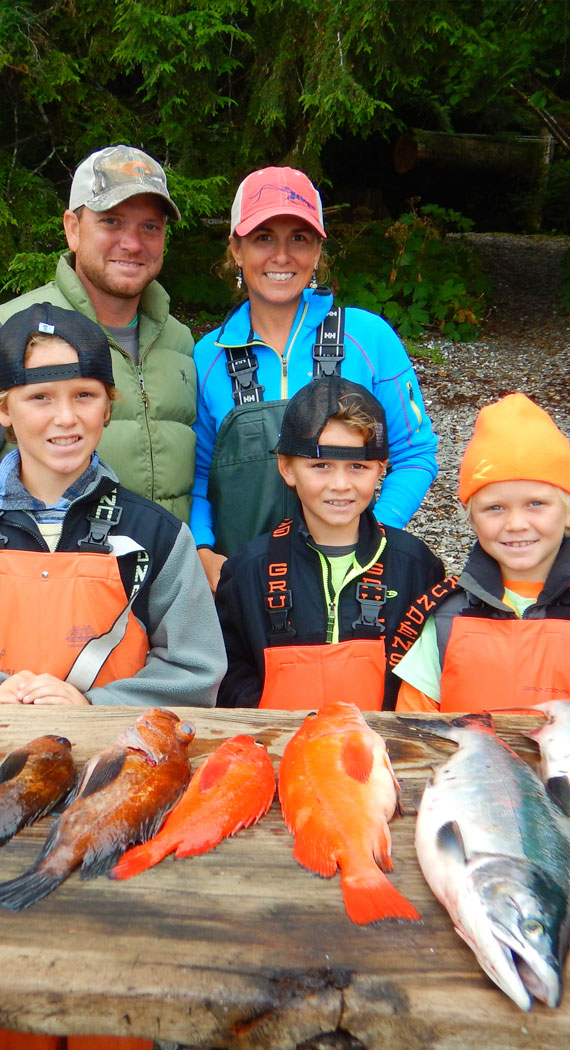 Baranof Fishing Excursions
For an adventure of a lifetime, travelers from all over the world choose Alaska. With its remarkable landscapes, unique wildlife, and bountiful fishing locations, we have yet to meet adventurers who leave Alaska without lasting memories.
Baranof Fishing Excursions would love the opportunity to show you our portion of our beloved state. Our fishing guides are capable of teaching even a lifelong fisherman something new, and patient enough to teach the ropes to beginners. Each guide has their individual secret spots to introduce you to our abundant bottom fish and five species of Alaskan salmon. Even if fishing isn't your only goal for exploring the state, we believe any trip to Alaska should include not only several days of fishing, but multiple evenings of dining on fresh Alaskan seafood. Please explore our website or give us a call so you can start dreaming of salmon, halibut, and one of the most gorgeous places on Earth.
Our pricing is based on 6 hours of fishing, which we find allows for an exceptional Ketchikan fishing experience. While some outfits offer 4-hour excursions, we don't believe that gives our guides enough time to run to the more productive bottom fishing grounds. As the fishing closest to Ketchikan is only extraordinary during the peak of Coho and Pink salmon during the first week in July to late August, we want to be sure all of our guests have an equal shot at catching fish no matter their month of arrival. (We are happy, however, to accommodate our guests who want to fish longer than 6 hours for a reasonable fee). We are fortunate that a good portion of our business consists of clients that return every year for an Alaskan fishing vacation.
At Baranof Excursions, we offer four basic fishing options: Stalking Salmon, Hunting for Halibut, Alaska Fishing & Wilderness Dining, and Private Alaska Fishing Charters. We welcome couples, individual fishermen, and families alike, and we pride ourselves on offering compatible pairings with other clients who have like-minded fishing goals.