General Information
The Baranof Fishing crew enjoys how easy it is to exceed a family or small group's expectations when they charter their own boat, as a private Alaska fishing charter allows Baranof to completely customize a client's experience with their timetable. We can depart the dock and head back to our marina completely on your schedule, and we have a plethora of options available to make your trip unique.
Our Most Popular Charter Choices
We've put together a few popular charter choices based off previous excursions, and what specific demographics have opted for in the past. These can be used as a good starting point to give you an idea of what you might be able to do in one day, but keep in mind that this is your charter. You can swap out any options you like as long as it fits within your timeframe.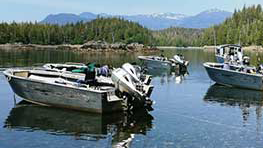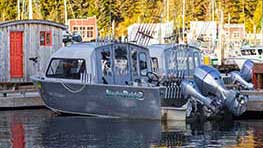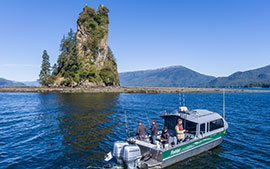 There is an additional charge of $108.00 per person if your party would like to eat your catch at the Fish House.
When chartering, all of our salmon fishing, halibut fishing, and wilderness dining options can be incorporated either in their entirety or piecemeal into your day of fishing and exploring. If it's all about catching big halibut for the kids, we can focus on halibut fishing. If the goal is to catch a King salmon, we can chase Kings. If your family really wants to see whales, we can fish on the outside coast of Duke Island, which is normally populated by humpback whales all summer long. Or, say you want to combine a bit of fishing with a visit to the Misty Fjord monument. You can tour the Misty Fjords by floatplane, and we'll be happy to pick you up at the monument to fish and explore your way back to Ketchikan. If that's not enough, you also have the opportunity to add crabbing and shrimping to your day, which are classic Alaskan fishing experiences that can't be offered on a more structured fishing excursion.
We also include on a complementary basis the option of Cook Your Catch at either our wilderness camp, at sea, or in a slightly more civilized setting in our restaurant - The Alaska Fish House. If you want to return early, in order to invite the family members you left behind in town to come by the Fish House for a meal featuring your fish, we can accommodate. Or, alternatively, if your children or parents are having the experience of their lives, we can extend your time on the water on a pro rata basis.
Bottom line: We're here to help you brainstorm through the options and create a custom day of Alaska fishing and/or exploration. We want to make your experience the most memorable possible for you and your family, and that is exactly what a Private Charter is all about.