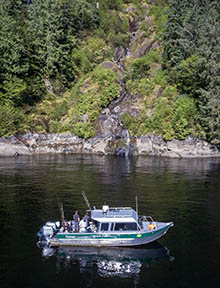 By chartering your own boat you control your schedule, save money, choose amongst more fishing options and enjoy a 5-star meal featuring your fresh catch.
Request Info
General Information
The Baranof Fishing crew enjoys how easy it is to exceed a family or small group's expectations when they charter their own boat, as a private Alaska fishing charter allows Baranof to completely customize a client's experience with their timetable. We can depart the dock and head back to our marina completely on your schedule, and we have a plethora of options available to make your trip unique.
Our Most Popular Charter Choices
We've put together a few popular charter choices based off previous excursions, and what specific demographics have opted for in the past. These can be used as a good starting point to give you an idea of what you might be able to do in one day, but keep in mind that this is your charter. You can swap out any options you like as long as it fits within your timeframe.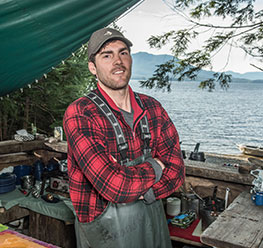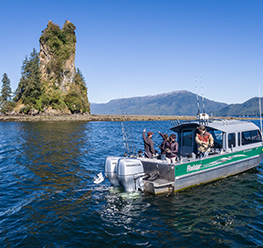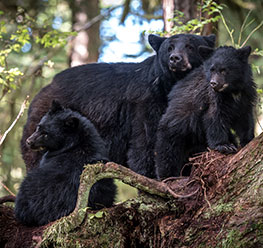 When chartering, all of our salmon fishing, halibut fishing, and wilderness dining options can be incorporated either in their entirety or piecemeal into your day of fishing and exploring. If it's all about catching big halibut for the kids, we can focus on halibut fishing. If the goal is to catch a King salmon, we can chase Kings. If your family really wants to see whales, we can fish on the outside coast of Duke Island, which is normally populated by humpback whales all summer long. Or, say you want to combine a bit of fishing with a visit to the Misty Fjord monument. You can tour the Misty Fjords by floatplane, and we'll be happy to pick you up at the monument to fish and explore your way back to Ketchikan. If that's not enough, you also have the opportunity to add crabbing and shrimping to your day, which are classic Alaskan fishing experiences that can't be offered on a more structured fishing excursion.
We also include on a complementary basis the option of Cook Your Catch at either our wilderness camp, at sea, or in a slightly more civilized setting in our restaurant - The Alaska Fish House. If you want to return early, in order to invite the family members you left behind in town to come by the Fish House for a meal featuring your fish, we can accommodate. Or, alternatively, if your children or parents are having the experience of their lives, we can extend your time on the water on a pro rata basis.
Bottom line: We're here to help you brainstorm through the options and create a custom day of Alaska fishing and/or exploration. We want to make your experience the most memorable possible for you and your family, and that is exactly what a Private Charter is all about.
For Customers Booking Charters for 2018
We want to make your experience the most memorable possible for you and your family, and that is exactly what a Private Charter is all about. As you've already booked, or believe you'd like to, please check out our private charter handout to help fine tune your excursion. In addition, up-to-date regulation changes and fishing trends can be found in our Captain's Report. Chris Baldwin, our lead guide, will let you know what the current fishing climate is as our guides experience it throughout the season, as well as any regulatory limitations that may affect your expectations.
"What People Are Saying About Baranof: Private Charter"
Baranof's Private Charter Boats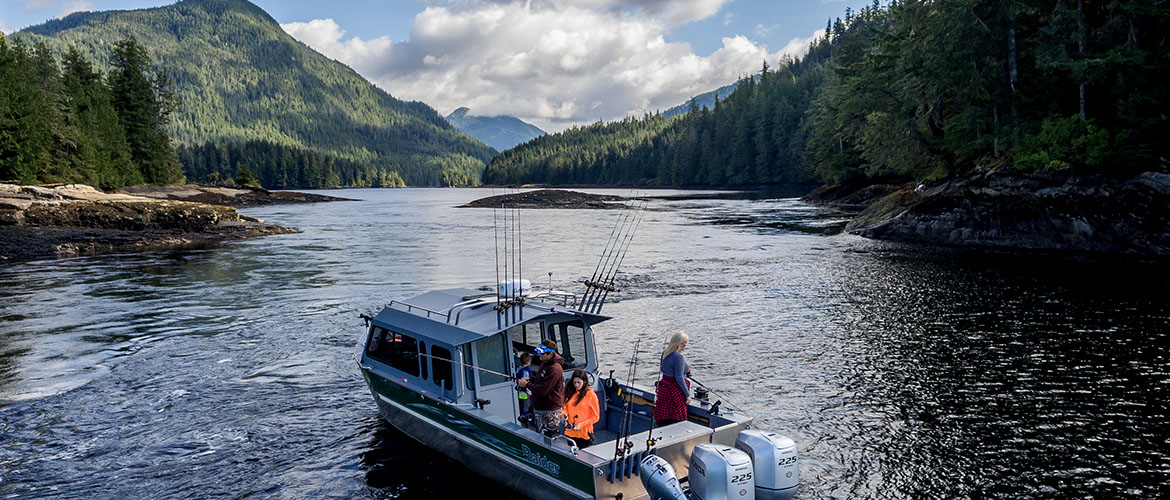 ---
30-FT CABIN CRUISER –
$1,500
---
Length:

30 foot custom hull design

Beam:

9 foot 8 inches

Motor:

225 hp outboard motor 9.9 Honda kicker

Capacity:

6 passengers

Cabin:

Yes

Head:

Yes
Baranof 30-foot Cabin Cruisers are Alaska Fishing in comfort. With their length and beam, their ride in inclement weather is very comfortable. These boats are heated with a private marine head, and provisioned for both piping-hot coffee and cooking fresh fish tacos. Fish Alaska in style!
Baranof's Private Charter Boats
---
24-FT CABIN CRUISER –
$1,200
---
Length:

24-foot
custom hull design

Beam:

8 foot 8 inches

Motor:

225 hp outboard motor
9.9 Honda kicker

Capacity:

6 passengers

Cabin:

Yes

Head:

Yes
Our 24-foot Cabin Cruisers are about saltwater fishing. Evolved over decades, they are safe and reliable. These boats can easily cruise at 30 knots to the fishing grounds, anchor or drift for halibut or troll at 2 knots for King Salmon, and pull up on a beach to enjoy a campfire on a wilderness shoreline.
Baranof's Private Charter Boats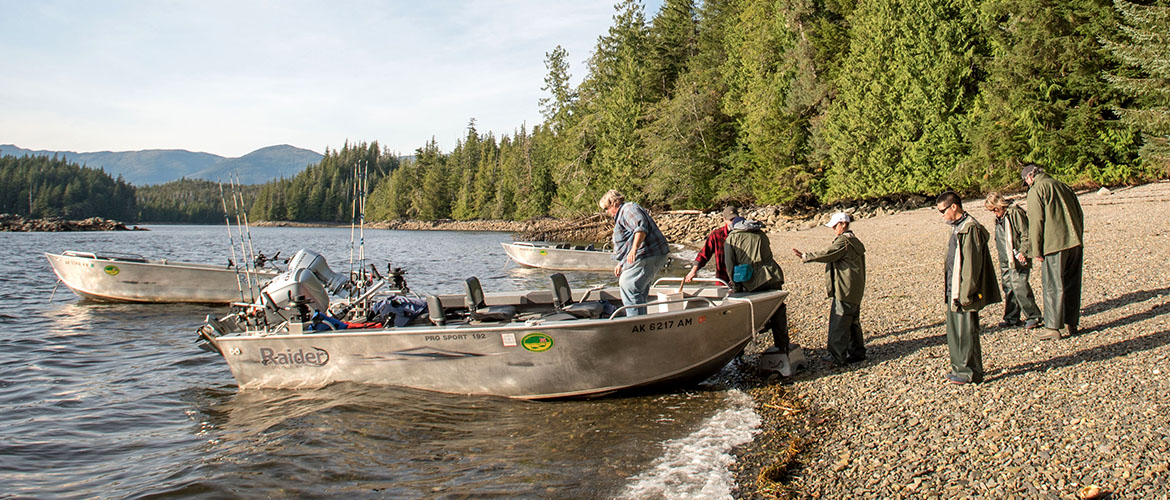 ---
Length:

20-foot
custom hull design

Beam:

7 foot 8 inches

Motor:

90 hp outboard motor

Capacity:

5 passengers

Cabin:

No

Head:

No
Our skiffs are representative of the skiffs from which most Alaskan youths learned their maritime, fishing, and hunting skills while growing up. Safe, efficient, tough, and capable, these skiffs are not only good for fishing, but for exploring the innumerable, secluded beaches of Southeast Alaska.
Light Tackle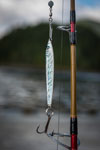 More experienced anglers are welcome to opt for light-tackle gear at no extra charge. Normally outfitted with sturdier poles to ensure I higher success rate of landing fish once hooked, Baranof provides lighter tackle for those that enjoy a more vigorous fight. Whichever tackle you prefer, your captain will instruct you in the fishing techniques, such as mooching and jigging, that we find the most successful around here.
Fishing for Black Cod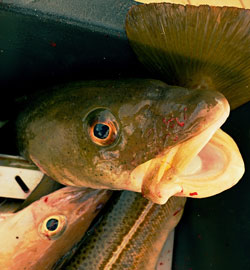 If the conditions are right, taking an hour to pull up some Black cod is well worth your time.
Highly dependent on sea and weather conditions, fishing for this delicacy can be a rewarding aside to your day of salmon or halibut fishing. Considered by some to be the best tasting fish they've ever had due to their high oil content, Black Cod are targeted up to 1,400' below the surface. Let us know if this is something you'd like to dedicate a little time to should conditions allow, and we'll bring along the electric reels.
Squid Jigging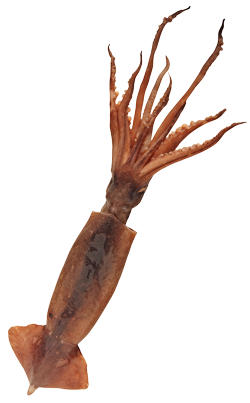 If you'd like to dedicate some time to pulling up squid, either for the photos, story, or eating, we can make that happen. Local angler Will Hink will hop on board as a personal instructor to show you how it's done.
Squid fishing in Southeast is relatively new as far as sportfishing is concerned. With the limited timeframe guests usually have, most of the fishing is done targeting salmon or bottom species at depths squid aren't commonly found; at least not during daylight hours. William has caught squid fairly shallow (for them) during evening hours, but for a reasonable chance of success you're looking at fishing around 600'; twice as deep as those going for halibut. As such, some advance planning is required for squidding to ensure we've got the right tackle and enough line on the poles to find some Southeast cephalopods.
Beach Combing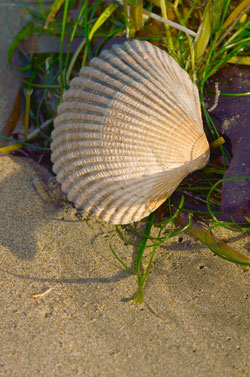 You never know what the Pacific will wash ashore, so planning on an hour for lunch and treasure hunting can be an exciting addition to your day of fishing or sightseeing.
Whether it's a personal passion of yours, or you have some energetic youths that might benefit from some time running around a remote Alaskan strand, we can schedule a beach visit during your charter.
Crabbing or Shrimping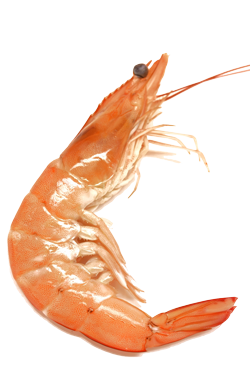 Spot shrimp and Dungeness crab are local favorites for those with the means of catching them. While shrimp tend to be fished deeper and commonly require a shrimp pot-puller, Dungies can be found shallow enough to require nothing more than some bait and a pot. The crab is delicious, but the spot shrimp are a bit of a delicacy compared to what many of us are used to. Found along the rocky bottom of Southeast, spot shrimp don't develop the "mud vein" that is indicative of other species found on primarily sedimentary ocean floors. Long story short, dropping a pot for either our cold-water shellfish is worth the time and effort.
Interested in a Private Charter?