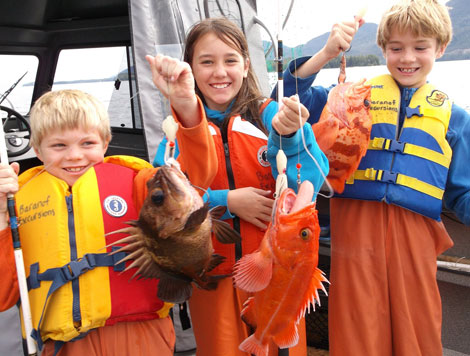 At Baranof Excursions, we believe that one of the best markers of a strong fishing community is demonstrated in observing the youngest generation of fishermen.
We find the young people who grow up in Southeast Alaska have an unbridled curiosity, passion, and capability rooted in the landscape right outside their backdoors. Whether it comes from poking around the rockiest beaches looking for sea glass or critters in the tide-pools; paddling across the narrow part of the channel to explore a neighboring island in the family rowboat or kayak; or the hours spent out in their Grandpa's cabin cruiser trolling for that prize King salmon since before they could talk, it doesn't quite matter. You'll be hard pressed to find a kid growing up in Ketchikan who doesn't love the ocean – or to find a crew of fishermen more excited to instill that same wonder in the children visiting our community and going out fishing for the first time.
But don't take it from us: Captain Alonso Escalante has been guiding with Baranof Excursions for over a decade. Within only a few weeks of arriving in Alaska for his first summer, he decided to make Ketchikan his home. He and his partner, Jennie, have created a life worthy of Southeast Alaska. Their son, Theodore, now eight years old, has grown up in these waters. From Alonso himself:
What I have found excites our son is to explore and fish the many ecosystems available in these waters all within a single day. Start your morning out by running out to drop crab pots; fish for some salmon or try for a halibut; pause at your favorite rocky shore to do some beachcombing; take a walk into the Tongass National Forest and find a bush full of wild Alaskan blueberries; and then wrap up your day by pulling the crab pot to see what bottom dwellers crawled in there. Mixing up the day allows you to see more of what this beautiful country has to offer and will send you home with a rich collection of experiences and memories.
While we understand some folks can be understandably nervous to take their children out on the water on a fishing trip, we're here to help facilitate an experience that brings the whole boat home with smiles on their faces and stories to share. Baranof Excursions would love your collaboration to help you make the best trip possible.
When it all boils down, we at Baranof Excursions are here to help you, and we're happy to troubleshoot any of your questions or concerns! Please let us know what ways we can help make your trip the best possible for you and your child. And whatever course the day takes, we're all here to have fun, and we can't wait to share Southeast Alaska with you and your kids!